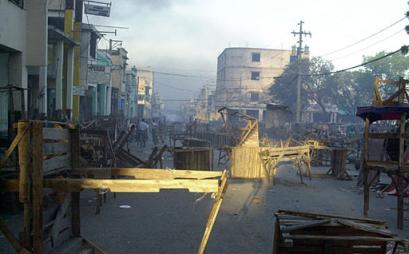 Vendors' tables are used to barricade the main street in Port-au-Prince, Haiti, early Friday, Nov. 22, 2002. They were set up by supporters of President Jean Bertrand Aristide because they say the country is in danger of a coup d'etat. During the past week, thousands have marched in cities throughout the country to call for Aristide's resignation. (AP Photo/Daniel Morel)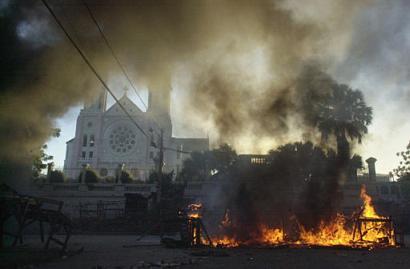 A flaming barricade is seen in front of the National Cathedral in Port-au-Prince, Haiti, Friday Nov. 22, 2002. The barricade was set up by supporters of President Jean Bertrand Aristide because they say the country is in danger of a coup d'etat. During the past week, thousands have marched in cities throughout the country to call for Aristide's resignation. (AP Photo/Daniel Morel)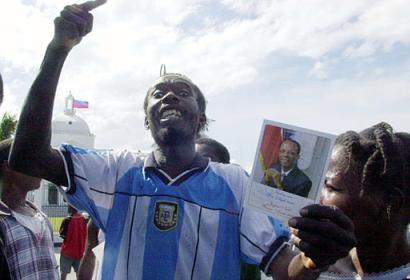 Supporters of Haitian President Jean-Bertrand Aristide hold his photo and shout pro-Aristide slogans in front of the National Palace in Port-au-Prince, Haiti, Friday, Nov. 22, 2002. Earlier in the day, Aristide supporters set up burning barricades throughout the capital to protest was they said 'smelled like a coup d'etat.' (AP Photo/Daniel Morel)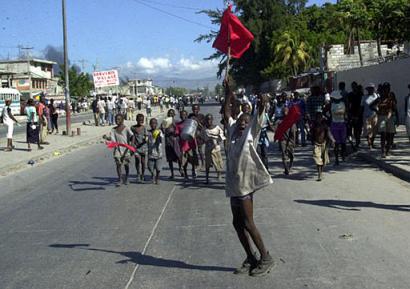 Street children hold an impromptu march to support President Jean-Bertrand Aristide in Port-au-Prince, Haiti, Friday, Nov. 22, 2002. Earlier in the day, Aristide supporters set up burning barricades throughout the capital to protest was they said 'smelled like a coup d'etat.' (AP Photo/Daniel Morel)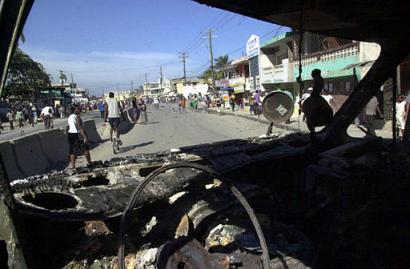 People walking by the hulk of a bus torched by supporters of President Jean-Bertrand Aristide and turned into a barricade in Carrefour, Haiti, Friday, Nov. 22, 2002. Early in the morning, Aristide supporters set up burning barricades throughout the capital to protest was they said 'smelled like a coup d'etat.' (AP Photo/Daniel Morel)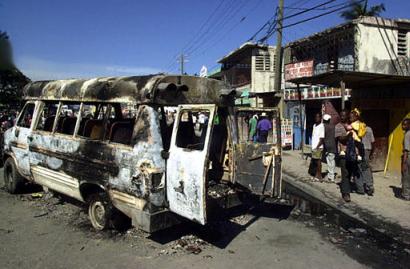 People walking by the hulk of a bus torched by supporters of President Jean-Bertrand Aristide and turned into a barricade in Carrefour, Haiti, Friday, Nov. 22, 2002. Early in the morning, Aristide supporters set up burning barricades throughout the capital to protest was they said 'smelled like a coup d'etat.' (AP Photo/Daniel Morel)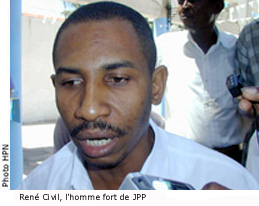 Rene Civil, one of chief bandit Jean-Bertrand Aristide's junior chief bandits seen on the streets of Port-au-Prince today setting cars on fire.His criminal friends call him Mr. 501 because he has claimed to have killed 501 Haitians for tyrant Aristide.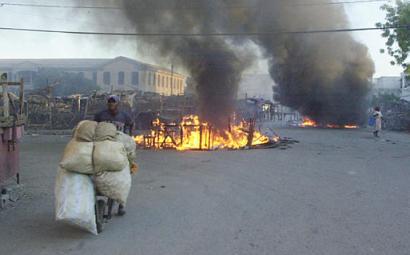 A flaming barricade is seen in front of a school in Port-au-Prince, Haiti, Friday Nov. 22, 2002. The barricade was set up by supporters of President Jean Bertrand Aristide because they say the country is in danger of a coup d'etat. During the past week, thousands have marched in cities throughout the country to call for Aristide's resignation. (AP Photo/Daniel Morel)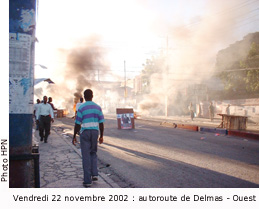 A street of Port-au-Prince burning down, Nov. 22, 2002.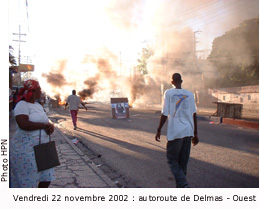 Port-au-Prince sets on fire, Nov. 22, 2002