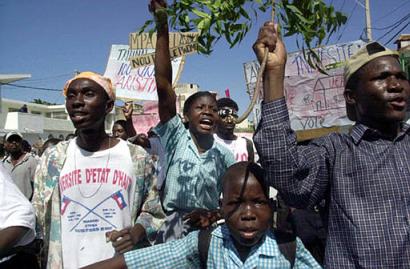 University, high and middle school students partake in an anti-President Jean-Bertrand Aristide march in Port-au-Prince, Haiti on Thursday, Nov. 21, 2002. Thousands of students in three cities took to the streets Thursday demanding Aristide's resignation, a day after four students were shot in a clash with authorities. (AP Photo/Daniel Morel)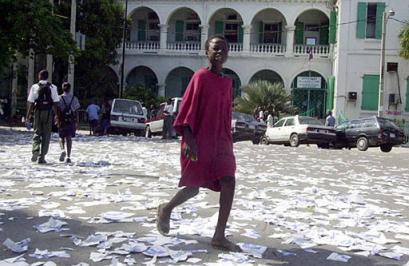 A homeless boy walks on some of the thousands of ripped up President Jean Bertrand Aristide flyers which litter the street in front of the Haitian Ministry of Foreign Aid after participants in an anti-Aristide march of over 3,000 university and high school students shredded them, in Port-au-Prince, Haiti on Thursday, Nov. 21, 2002. (AP Photo/Daniel Morel)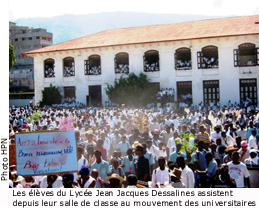 Students protesting in Haiti, Thursday, Nov. 21, 2002, one day after tyrant Jean-Bertrand Aristide's thugs fatally shot more than ten students in the provincial city of Goanives. Freedom fighters demand the immediate departure of bestial and brutal dictator Aristide from the office of the presidency he has illegally occupied, while trafficking in narcotics, since Feb. 7, 2001.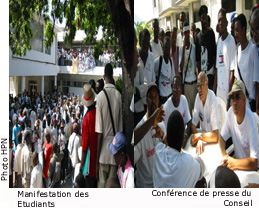 Students protesting against tyrant Aristide and demand that he immediately resigns from the office of the presidency, which he has occupied, and illegally so, since Feb. 7, 2002.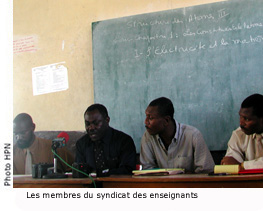 Members of the students' union holding a press conference at the State University of Haiti in Port-au-Prince.