Want to send this page or a link to a friend? Click on mail at the top of this window.
First published in The Standard-Times, July 6, 2001
Why back Haiti's corrupt dictator?
CAMBRIDGE, MA - Former United States Congressman Joseph P. Kennedy II, Harvard University faculty member Paul Farmer and Jeffrey Sachs, who directs Harvard University's Center for International Development, all write in the Boston's Globe (Op-Ed page, June 30, 2001) "US owes Aristide a fair chance to govern."
But what I need to remind the writers of the June 30 column is that the U.S. long ago gave Jean-Bertrand Aristide a fair chance to govern. It went as far as baby-sitting him for years, only to later prove that Haiti was being governed like a criminal syndicate, and will be governed as so for years to come, with him (Aristide, a chief bandit) in control of the Caribbean state.
In 1994, when the U.S. returned Aristide to Haiti after more than three years in exile, first in Venezuela, then in the United States, for many Haitians and others it was almost possible that Haiti would afterward start to conform its behavior, that it would cease to be a land that had known only dictatorship, kleptocracies and dehumanizing poverty for nearly its 200-years history, and embrace democracy.
In this undated photo, above, tyrant Aristide's bandits are burning downtown Port-au-Prince and many other parts of the long dilapidated city of 2 million-plus inhabitants. Afraid for their lives, citizens are forced to stay indoors. Those who venture outside are burned alive.
To help Haiti enter the pantheon of democratic nations, the United States poured billions of dollars into the country to pay for the cost of improving its judicial system, for example.
Unfortunately, after more than six years all the unprecedented U.S. financial help to Haiti, especially to Aristide, makes for is a rich morality play, not only about one man corrupted absolutely, but also a tyrant of the far-left who continues to urge supporters to burn even assumed political opponents alive in an effort to further consolidate the dictatorship of the proletariat he long ago instituted.
The former little red priest of the shantytowns, as he is best known for, who years ago pretended to be a prophet, a messiah and the great defender of the mostly dirt-poor Haitians, has amassed a questionable fortune for himself since his returned to Haiti from exile.
Less than two years ago, there was indeed one man who questioned his fortune, as the majority of Haitians continued to endure abject poverty. In fact, the questioning of his fortune occurred during a radio interview when Aristide was a guest of Jean Leopold Dominique, Haiti's then-best-known journalist.
Unfortunately, the prominent radio journalist and activist is no more. He was brutally murdered in the early morning of April 3, 2000 in the front yard of his Radio Haiti Inter station. Here, radical leftist Aristide's dictatorship of the proletariat, including the criminal syndicate he had long turned Haiti into, was on June 20, 2001 taken to its logical extremes.
In democratic or civilized countries, alternately nations, the courts determine violations of the laws and order remedies or penalties for these violations. Unfortunately, not so in Haiti.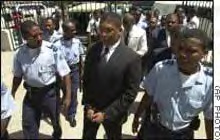 I, former police chief Coles Rameau, in handcuffs, only killed people for brutal dictator Aristide.
Such were the words of tyrant Aristide when he visited a few police stations in the trash-filled capital city of Port-au-Prince, apparently in an effort to reduce Haiti's unacceptable crime rate, Haiti's growing crime rate, he said in a in a news conference. "If you the people see someone forcing a driver out of his or her car, that means he or she is a criminal, a bandit. If someone is robbing someone else, that means he or she is a criminal. There is no need for you, the people, to wait for the police to arrive and arrest him or her, which will then be followed by a court appearance before a judge. Forget about it, I say! He or she is guilty. All you have to do is burning him or her alive, and I mean right on the spot."
Visiting police stations and urging supporters and de facto government paid bandits alike - most of them cannot read nor write - to embrace the practice of spraying gasoline on hearsay violent criminal offenders and then burn them alive where the alleged crimes are said to be committed will not serve as a general deterrent to crimes in Haiti, which have long forced many foreigners and Haitian nationals, residing in foreign countries, not to include the Caribbean nation in their overseas travel itineraries.
Considering the Haitians who will take pride in burning alive (a retaliatory cruel punishment) their fellow compatriots because of a dispute over land, for example. The number of crimes, both violent and nonviolent, now committed in Haiti may in fact go upward.
How can this be, Kennedy, Farmer and Sachs advocating for the U.S. to give Aristide a fair chance to govern when he is still the source of evil in Haiti? I am convinced they will all one day regret doing so after Aristide finds himself in the International War Crimes Tribunal facing a series of murder-crimes charges.
Statues of the international criminal tribunal imbue "superiors, including heads of state, heads of government, with criminal responsibility if they "knew or had reason to know that the subordinate was about to commit such acts, or had done so and the superior failed to take the necessary and reasonable measures to prevent such acts, or to punish the perpetrators thereof."
The acts in question, which also included torture and rape, were committed by bandits, often immediately after orders were publicly given by Aristide to do so, suggesting that prosecutor(s) will not have to try hard to convince the court that Aristide "knew or had reason to know," about such occurrences.
Only when the Caribbean country's estimated unemployment rate of 80 percent is significantly reduced; Aristide's own bandits are disarmed; high school students no longer have to visit barely illuminated public plazas two or three times a week to study for classes because they are cut off from electricity at home for anywhere from 21 to 22 hours a day, suggesting that the Thomas Edison's revolution has yet to really take place in Haiti; and, most importantly, the moribund judicial system is reformed to include rules that will help to equally ensure proper legal procedures and strengthen the rights of defendants and plaintiffs, to name only these ones, will (hopefully) a solution be found to the growing crimes that the poorest country, preferably nation, in the Western Hemisphere, Haiti, started to experience shortly after he (Aristide) first assumed the presidency in 1991.
The United States may again give Haiti - a state that has long been considered by Aristide and cohorts as the only real path for both, political and economic advancement, and this at the expense of the estimated 80 percent poor Haitians - a fair chance, such as millions of dollars in financial assistance to help pay for the cost of improving its citizens' quality of life and achieving democracy. But not Aristide himself, as Kennedy, Farmer and Sachs advocate. Any U.S., including European, financial assistance to Aristide, a man evil in himself, will only keep the dictatorship of the proletariat and the pillage of the country's public treasury alive.
The words that will be summoned to describe Haiti as Aristide, who has gone to bed with Fusion, a U.S. telecommunications company, to increase his wealth are: burning alive political opponents, fraudulent elections, abject poverty, gross incompetence, and AIDS. Many members of his current de facto government who will become his Brutuses as no bad behavior, as usual, goes unrewarded. In the meantime, the majority of Haitians will continue to suffer, survive and wait in vain, in some dignity, for their quality of life to be improved and democracy to arrive.
Yves A. Isidor teaches economics at the University of Massachusetts-Dartmouth and is spokesperson for We Haitians United We Stand For Democracy, a Cambridge, MA-based nonpartisan political pressure group.
Wehaitians.com, the scholarly journal of democracy and human rights