Partial
Works Cited Isidor, Yves A. "Growing environmental... Singer's Utopian Solution To World Poverty that most of us do absolutely nothing to help any needy people (and not ...

www.oppapers.com/subjects/healthcare-in-​third-world...

-

Cached

P.O. Box 390581
Cambridge
Massachusetts 02139
USA
Attention: To Whom It May Concern
Dear Sir/Madam
Re: Urgent permission request to reproduce photographic material

I am the Publishing Services Executive at Carlong Publishers (Caribbean) Ltd and am writing on behalf of the Publishing Department. Carlong Publishers is a Jamaican based publishing house whose list focuses on textbooks for children between the ages of 6–17 years in Jamaica and the wider Caribbean. Our search for images of a Voodoo ceremony led us to your website.

We formally request permission to reproduce the photo 'haiti voodoo.jpg' on behalf of the authors of Carlong Primary Religious Education Year 5, which is currently in production. The photo in question was found at http://www.wehaitians.com/haiti_voodoo.jpg
Carlong Primary Religious Education is a primary-level Religious Education text used by students at the Grade 5 level. The photograph is being used as visual reference in the body text at a dimension of approximately one quarter-page or less.

The extent of the text is approximately 152 pages and should be published in March 2012 with a print run of 7,500 copies.

As our schedules are quite tight, we urge you to expedite the processing of this request.

Please indicate, in your response, if you can pro vide us with such a photo/s and if you hold the rights to the work. If you are not the rights holder, we should welcome any assistance that you are able to give which would lead us to such person or agency. Should permission be granted please indicate how you would like the material to be acknowledged and any other condition to which we are bound.

Kindly also include in your reply a high-resolution copy (400–600 dpi) of the photograph.

Thank You.


Sincerely,

J.Ewart
Julie-Ann Ewart
Publishing Services Executive
Carlong Publishers (Caribbean) Ltd
Bldg#3, 17 Ruthven Road
Kingston 10

Tel: 960-9364-6 Ext 228
Fax: 968-1353
Email: j.ewart@carlongpublishers.com

Please visit our website at www.carlong publishers.com <http://www.carlongpublishers.com/
SCor deir o Samuel A. Cordeiro Eco 101- 04 8:00 am Prof. Yves A. Isidor October 2, 2007 Test 1 5) I do agree with Jean Baptistes theory, Supply creates its own demand.

www.coursehero.com/file/5820689/Redox-​Overview-fall-2009

-

Cached

Page |1 Samuel A. Cordeiro 00840894 Eco 101 8:00 AM Prof. Yves A. Isidor December 4, 2007 Quiz 7) Flexible labor markets do not make more jobs.

www.coursehero.com/file/5820745/Fine-​Dining-Survey

-

Cached

Jean-Bertrand Aristide, the prophet of deception, by Yves A. Isidor, first published in The Boston Connection Magazine, June 1999: anti-Aristide

anitra.net/books/activist/aristide.html

-

Cached

13802: Vishnusurf: Re: 13781: Pina posts questions about www.wehaitians.com (fwd)
---
---

From: VISHNUSURF@aol.com

Anonymous:

The website that Mr. Pina criticizes is about the best site on Haiti on the
web, so many thanks to him for pointing it out to us all.  Taking offense to
the satirical photo of Aristide is hypersensitive on Mr. Pina's part.
Politicians are open game to such caricature, and this one hardly seems in
bad taste compared to the hundreds of political cartoons that run throughout
the world in daily papers.  And while such caricature may not qualify as
"scholarly" it certainly CAN serve the interest of human rights by drawing
attention to a leader's shortcomings or sins.  In fact, it may serve better
than scholarship at that, so kudos to wehaitians.com.  How convenient that
Mr. Pina forgot to note the many scholarly things that ARE posted on
wehaitians.com, and rich links it provides to such devastating reports on the
Lavalas human rights record as those produced by Amnesty International.

So, once again, thanks, Mr. Pina, for advertising such an excellent website.



---
My name is Schameeka, My husband Charles Joseph was on vacation in Haiti. On his way to the airport to return home, he disappeared. The police had 2 suspects under arrest but they were released. They have no leads or suspects. I have contacted the president, the consulate, the embassy, the newspapers, the radio stations, cnn, msnbc, and usa today. Today is day 10 of his disappearance and I want to find him. I love him and we have 5 children. Please help
From: "Niki McQueen" <niki@da.org.za> To: <wehaitians@gis.net> Subject: RE: The odious crimes of Aristide Date: Tuesday, May 11, 2004 12:14 AM
Dear Yves
Thank you very much for sending us this. The Democratic Alliance is vehemently opposed to Aristide being allowed in this country, and we are doing all we can to prevent him from coming here. I have looked at your website, and I think it will be very useful for us. I have also forwarded your email to our foreign affairs and media departments.
Thank you again and best regards
Niki McQueen
To: <wehaitians@gis.net> Subject: Unknown Fugitive Slave - the sculpture Date: Wednesday, August 27, 2003 7:25 AM
I am seeking information as to where I might get a copy of a print or drawing of the statue that is in front of the Haitian National Palace entitled "Unknown Fugitive Slave" by Albert Mangones in Port-au-Prince, Haiti. I am an African-American who most recently read the book "Maroon Societies" and a picture of this statue is on the cover.
I am an affiliate president of an educational organization, The National Alliance of Black School Educators, and our Affiliate has developed a local eduators award entitle, The Maroon Award. The title of our award has special significance due to our collective past and for people of Haitian descent, DuSable and L'Overture and another modern day African American scholar, Asa Hilliard.
My interest is getting a print, drawing or casted stutue immitation of the Unknown Fugitive Slave to become the symbol for our award. If you are able to help me please inform me as to how I may proceed in procuring this item.
truly!!!
To: wehaitians@gis.net <wehaitians@gis.net> Subject: Important Date: Sunday, February 16, 2003 9:20 PM
To Whom It May Concern:
My name is .... I'm currently writing a book about Haiti and I would like to have more information about the occult roots of Haiti. To be more specific, I would like know about Aristide's Voodoo worship. Do you have any book you can recommand? Thank you so much
Yours,
To: wehaitians@gis.net <wehaitians@gis.net> Subject: Date: Saturday, July 05, 2003 7:55 PM
allo maitre Isidor je te dis merci par ce que tu fais un bon travail pour la communaute haitienne.Ma femme emprunte ma voix pour te dire du courage et du succes.
To: <wehaitians@gis.net> Subject: Date: Monday, April 05, 2004 12:43 PM
Dear Professor Isidore:
I have sent an e-mail to you earlier regarding the list of names of Haitians murdered by the lavalas criminals. It has been hard on me to look at the comparison pictures of the lifestyle of aristide, his wife and entourage to that of the people of Haiti. In our opinion, the couple need to be brought to justice including their supporters. For the crimes committed, in particularly the man laying on the ground in a pool of blood, disfigured ..... There must be justice to stop this atrocious behavior once and for all. Please tell me how I could help although there has been so much damage done, no one does not truly know where to start. If you happen to visit the DC area with your family, please don't hesitate to contact me at .... You may also reach me by e-mail, and indicate to me what could I do to the best of my abilities, to help our Haitian brothers and sisters.
To: <wehaitians@gis.net> Subject: wehaitians.com Date: Monday, March 01, 2004 6:30 PM
I just found your website, and as an American/Floridian with many Haitian friends who fully support Aristide, I find your website biased and your thoughts deluded.
I suggest you educate yourself to the truth about your country and mine by reading this book: "Hegemony or Survival" by Noam Chomsky. After you have read it, you will realize the true role of Aristide in your country's government, and why he is not permitted to create prosperity in Haiti. He is/was a pawn under the opressive thumb of the U.S. government.
sincerely, thegreenman
To: <wehaitians@gis.net> Subject: NEGGER Date: Sunday, March 07, 2004 7:11 PM
Your admirable financial contribution can be U.S.$25.00 or more. A grant from you will help us pay for the cost (economic) of promoting and maintaining democracy and human rights in Haiti. That's all you learn to do false accusations, begging and at the same time trying to bring down brothers who are not like you. I finally understand why you are not wellike by any group and not welcome from anywhere. You, yourself, by being able to read and write is a destruction machine to your country. I wonder what Plato would say to you if he was alive. Are you a negger or a chocolate milk? If you were to learn Platon, Socrate, Aristote, Montaigne, Rousseau, Machiavel, Freud, Weber, Tockeville... name the rest howcome you still thinking the way you do? I don't have much time to spend with you. You are not worth it. Haitians like you make me hate haitians more and more everyday.
To: wehaitians@gis.net Date: Fri, 23 Aug 2002 12:57:15
Hi, Your web site is really beautiful but try not to be a fanatic (lavalassiens), witch you aren't, when you are informing about the politial crisis in Haiti. I know that it is not easy for you to be objective in the actual situation but at least keep a certain respect for people even if you do not like them.
Regards
To: <wehaitians@gis.net> Subject: Not journalism Date: Friday, March 12, 2004 8:19 AM
Professor Isidor, I am journalist and I am shocked by what is on your site. The information is imflamatory and disgusting and I must ask, who funds your organisation. Aristide was a repressive dictator, but he was no less than the others of the past. For you to have balance and respect, your site to also chronicle the repressive and murderous practises of all of them.
To: wehaitians@gis.net Sent: Friday, April 16, 2004 2:19 PM Subject: Black history project
Do you know how to contact the African American Lives project? the url in the article you posted from the Times does not work - is there a mail address? We are interested in contacting them regarding a family ancestor.
To: <wehaitians@gis.net> Sent: Wednesday, March 24, 2004 12:40 PM Subject: Haitian's constitution
> Hi > I would like a copy of Haitian Constitution. I would appreciate it if you > can help. > > Regards > > Henri > >
To: <wehaitians.com> Sent: October 13, 201 11:49:30 AM Pacific Time Subject: NOVEMVER 18
WHATS HOLIDAY IS NOVEMBER 18 IN HAITI, I DON'T RECALL THAT HOLIDAY. CAN YOU PLEASE LET ME KNOW.
THANK YOU
To: <wehaitians@gis.net Sent:Sunday, September 28, 2003 10:21AM Subject: REQUEST
Hi,
I am a Jamaican, currently attending a university. I have an assignment to do and it is in reference to THE MAN OBSTACLES TO ECONOMIC GROWTH IN HAITI. As a result, I would like to find out if your arguments are mainly based on the obstacles to economic development.
Thank you in advance for your urgent attention to this very important matter.
To: <wehaitians@gis.net Sent: Tursday, October 30, 2003 8:06 AM Subject: 200th Anniversary
Hello,
I am a graduate student at Boston University. I have an assignment to cover the Haitian community. I am interested in speaking to someone about the upcoming anniversary especially with the political climate in Haiti. How it will be celebrated here in Boston? As well as some of the projects/initiatives your organization runs.
Please contact me at ... or via email to arrange an interview. I am working on deadline and would love to speak to someone before Friday.
Many thanks,
To: wehaitians@gis.net <wehaitians@gis.net Sent: Sunday, February 16, 2003 9:20 PM Subject: Important
To Whom It May Concern:
My name is .... I'm currently writing a book about Haiti and I would like to have more information about the occult roots of Haiti. To be more specific, I would like to know about Aristide's Voodoo worship. Do you have any book you can recommend? Thank you so much.
Yours,
To: WeHaitiansPol Sent: September 25,2001 2:05:05 PM Pacific Daylight Time Subject: Haitians seeking relief from removal
My name is ..., I am a law student at the Uversity of Conn. School of Law. I am presently working on a project at DelCastillo & Associates, a law firm in CT. I am trying to apply for relief from removal under the Convention Against Torture for a 26 year old Haitian criminal alien who has been here since he was 3 years old an never went back to Haiti. His entire family is here U.S. citizens mostly and permanent resident. He does not speak French or Creole.
I was taken by the article that Yves A. Isidor wrote on Claudette Etienne the 44-year-old deportee who died in a Haitian prison. I am trying to get nore articles on issues similar to Ms. Etienne that can support my argument that if my client returns to Haiti, he is more likely to be tortured and treated badly and accordindly, he should not be removed to Haiti.
If you have any information or articles concerning the plight of deportees or deported criminal aliens in Haiti, I would be very grateful if you could forward any information that you may have on illtreatment of Haitian Deportees by the Haitian Police or Government.
If there are costs involved with the copying or accumulation of the data, please let me know. My telephone number is ..., fax no ... or address is ... and the name of the law firm is DelCastillo & Associates.
Thank you,
From: hpocock@hotmail.com (HannahPocock) <to wehaitianspol@aol.com February 15, 201, 5:35 PM Pacific Standard Time Subj: FAO Professor Isidor
Dear Professor Isidor:
I am a television researcher based in London, England. At the moment I'm developing a documentary series on ex-dictators from around the globe.
I've been reading through your website with interest (and was enlightened about Aristide's governance). However, my particular interest on this occasion is Raul Cedras.
I understand that he resides in Panama City but that's about it. Would you know anyone who who may have a more diect contact with him, perhaps a lawyer?
Thank you for your interest and I look forward to hearing from you.
Yours sincerely
Hannah Pocock
From: Safety@ifj.org (Sarah de Jong) Reply-to: safety@ifj.org To: <wehaitianspol@aol.com> Sent: March 15, 2001, 3:46:34 AM Pacific Standard Time Subj: Haitian journalists
Dear Yves A. Isidor,
Our organization is currently conducting a review of cases of journalists, news photographs and media staff who have been killed in the over the previous ten years.
If you are aware of jounalists from the Haitian community abroad who have been killed during the course of their professional activities during the time period 1990-2000 we would very much appreciate any details that you may possess of such cases.
The International Federation of Journalists has embarked on a project concerning killed journalists between 1990-2000. We aim to produce a publication which will offer an overview of the past decade and will contain an in depth statistical analysis which will include questions on the ratio of cameramen killed as opposed to reporters or freelancers, etc. Below are the cases of Haitian journalists we are aware were killed in the US. Should there be any details that you wish to comment on regarding any one of these cases please do not hesitate contacting me.
1991 Jean Claude Olivier Fritz Dor
1993 Dona St. Pilte
Thank you for any assistance that you able to provide.
Yours sincerely,
Andrew Clark
International Federation of Journalists
htt:www.ifj.org
266 rue Royale
1210 - Brussels
Belgium
Tel: +32 2 223 22 65
Fax: +32 2 219 29 76
To: WeHaitianspol Sent April 2, 2001 Subj: GROWING ENVIRONMENTAL PROBLEMS ...
MON CHER ISIDOR,
just finished your article on ENVIRONMENT in Haiti ... you can imagine I, as a conservation scientist (marine &terrestial) am thrilled to find another scholar with who i can share interests in this challenging topic.
my intent to-day is not to enter a debate about environmental problems in Haiti ... (in all awareness, not need ...) i like to introduce myself and propose another challenging topic to reflect upon. Space activities and space products: satellite application tools / information technologies application to societal need and how Haiti can build prosperity by joining the efforts of other nations: Brazil, Guina, Cuba in the area of Space products; better comprehend (through those tools:GPS, GIS ... COMMUNICATIONS satellite) key issues in threats to the environment, global warming, deforestation, oceonic challenges, including fishery challenges ...
i am an oceanographer and i have just been admitted to a Space program (to be more accurate: Earth Observation Science) ... so, you understand my enthusiasm about Space product, productivity, profitability and prosperity for our beloved Haiti.
IT IS ONLY A THOUGHT
KINDEST REGARDS
May 12, 2004 - In Haiti and the United States, the arrest of a Haitian-American Voodoo priestest and chief bandit produces extreme criticism of professor Yves A. Isidor and wehatians.com ... please see related article.
Democracy/Human Rights Advocates Politicians Writers Scholars Journalists Economists Attorneys Students Etc.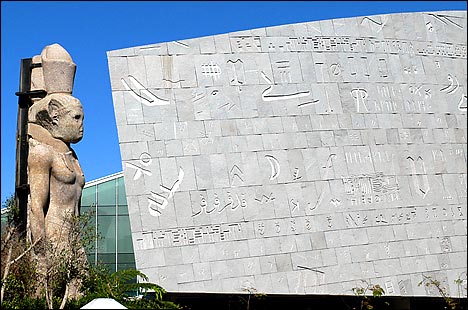 Getty Image, via The New York Times
The Alexandria library hopes to take up where its legendary forerunner left of a millennium ago.
To: wehaitians@gis.net <wehaitians@gis.net> Subject: Research Questions Date: Saturday, May 17, 2003 12:37 AM
Dear Mr. Isidor, My name is .... I am a high school senior in Palo Alto, California. I am currently writing a large research paper about Aristide's first presidency, and I have been looking at the "wehaitians" website for information, and it has been very useful. I was wondering though, if you might be able to answer a few questions I still have, in a sort of "email interview" setting. If you would be able to respond, here are the questions, and if you cannot that is fine as well, it just seemed like you had a lot of knowledge on this topic.
1) To what extent do you believe Aristide changed between 1990 and 1996? (I am focusing on this first period, so it would be great if you had comments about that, though I will be touching lightly on the current situation in my conclusion) And if he changed (some say he didn't, that's fine too) was that change good or bad?
2) To what extent can you characterize Aristide as a politician? to what extent can you characterize him as prophet?
3) What are his flaws and what are his strengths? What has good has he done for Haiti and its people, and what has he made worse? (during the period 1990-1996)
4) Are Aristide's arguments against the elite and the military legitimate?
5) To what extent is Aristide's connection to the people genuine? Is this connection based on religion?
6) Did Aristide mobilize disenfrachized masses towards participating in politics and creating a democracy? did he try and fail, or not try at all?
7) When Aristide returned from exile he spoke of "justice and reconciliation,"... do you believe Aristide was genuinely interested in achieving those goals, and did he achieve them?
8) What do you think of the political pardon which Aristide granted the coup leaders during his exile? What do you think of Aristide's economic policies during his first seven months, and those he accepted after his exile?
9) Was Aristide committed to the people of Haiti, and if yes, did he remain loyal to them? If he did not remain loyal, why not?
That should be enough to start you off! Actually its a lot of questions I know, so if you'd like to, please just answer those you have the most to say about, or a little about each. Please let me know if you need any more information. I'd really appreciate your opinion on this. As you can probably tell, I am very interested in Haiti, and this topic in particular, so I would love to hear what you have to say. Thank you very much for taking the time to read this.
Thank you very much
p.s. also, if you know other people who would be interested to answer these questions, or add their thoughts to my analysis, you are more than welcome to share the questions and my email adress with them. (or if you do not have time to answer these questions, but you know someone else who does that's fine too!) Just let them know, it would be great if they could respond by sometime next week. Thank you!