Pictured, Président Daniel Fignolé, Lt. John Beauvoir & Boyer
Coup d'état; President Fignolé being escorted out of the country by Lt. John Beauvoir and Officer Boyer
A Very Famous picture: The famous comment to Président Fignole from Lt. Jonh Beauvoir : "Ti Coq Ou Caca" or literally "Boy, you are gone; Boy, you are finished." President Fignole is escorted by members of the rebellious army to exile. The officer in charge and, overseeing the departure is Lt. John Beauvoir.
More about
Le professeur or the professor



And now, bloodthirsty dictator, Francois "Papa Doc" Duvalier


-----------------------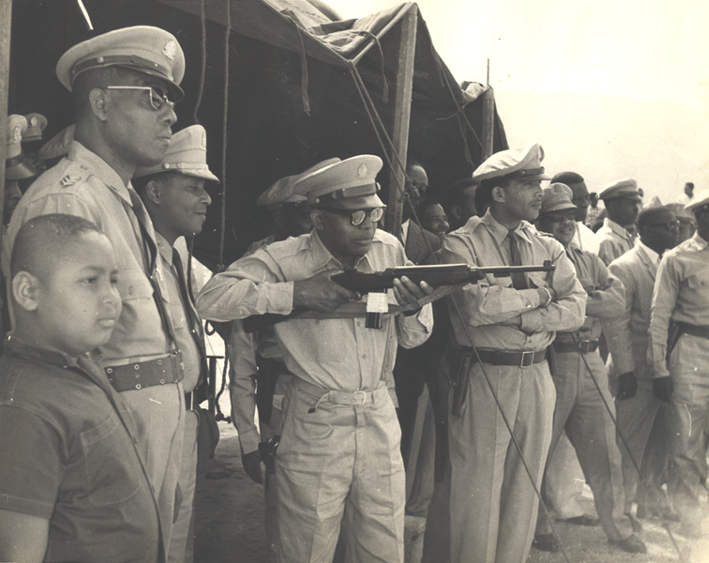 François Duvalier (April 14, 1907 – April 21, 1971) was the President of Haiti from 1957 until his death in 1971. Duvalier first won acclaim in fighting diseases, earning him the nickname "Papa Doc" ("Daddy Doc[tor]" in French). He opposed a military coup d'état in 1950, and was elected President in 1957 on a populist and black nationalist platform. His rule, based on a purged military, a rural militia and the use of a personality cult and
Voodoo
, resulted in the murder of an estimated 30,000 Haitians and an ensuing "brain drain" from which the country has not recovered. Ruling as President for Life from 1964 until his death in 1971, Duvalier was succeeded by his son, Jean-Claude (porcine boy, left), nicknamed "Baby Doc"... We all know the rest and history is about to repeat itself in Haiti, with President Michel Martelly, if he is not stopped.