Want to send this page or a link to a friend? Click on mail at the top of this window.
First published in The Haiti-Observateur, June 3-10, 1998
CAMBRIDGE, MASSACHUSETTS - Last month, as United States President William Jefferson Clinton and his wife Hillary Rodham Clinton stood at the "Door of No Return" in a former slave house on Goree Island, Senegal, I asked myself the following question: Is the world really free of slavery?
As I continued enthusiastically to follow the Clintons' trip in Africa, it came to mind that in Haiti former slaves now own slaves themselves. Far from Africa but so deeply connected to his roots that he considers himself African (no hyphenated ethnic label for him), a clearly agitated friend of mine from Cambridge, Massachusetts, pondered the issue for a moment and said with a shrug: This is unbelievable that there is still slavery in a country like Haiti ... former Haitian President Aristide himself owns slaves ... what a monster is that guy!
Lessons about how to treat a slave or "house Negro," however, can be drawn, for example, from the Analaise's case - a very poor Haitian family of ten. Dieusibon and his wife, Saint-Anny Analaise, both 51, have never been employed. Like most of their fellow Haitian compatriots, the Analaises cannot read or write. Sometimes, they have no food or money at all and as a result are forced to eat roots from a neighbor's yard to keep themselves going, to keep themselves alive.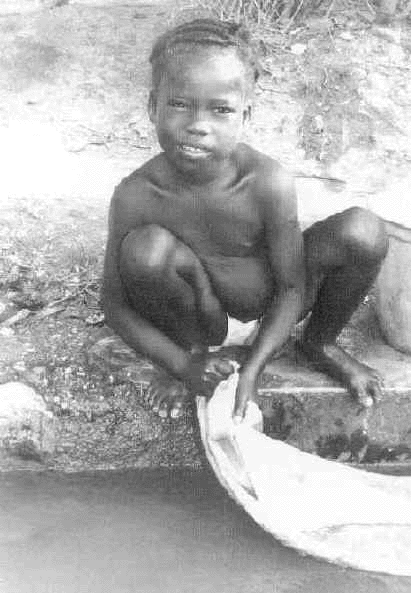 Sure the above little poor girl is not Ti-Marie Analaise, but her quality of life is a lot more better than that of Analaise.
The last time the Analaises thought their quality of life was going to change for the better was after Aristide - he himself the son of a peasant voodoo priest from Beaulieu (the countryside) in the south of Haiti - became president, in 1991. After years of broken promises, including broad daylight executions of political opponents, they became convinced that he was as bad as the previous heads of state.
So, too, they perceived him as Haiti's "stationary" chief bandit. "He is a bad man, ... he kills people, ... he cares only about himself, ... oh god, it seems like we are condemned to die poor, ... life is not going to change for the better for us," they said.
Like many other very poor Haitian families, unable to care for their eight children, the Analaises gave one of their under aged progenies, Ti-Marie, away to a low middle-class couple in Port-au-Prince. When the Port-au-Prince couple first took possession of their daughter (their newest little slave) she was barely nine years old. Unfortunately, her first assignment on the day of her arrival was to scrub the floor of an eight-room house. Then she was given some leftovers from the previous day.
Today, as Aristide continues to murder and imprison his political enemies, lie to his fellow Haitian compatriots and finance his second presidential campaign with narco-money, Ti-Marie remains a slave. She has never been to school and works, from 5:00 a.m. to 11:30 p.m. Whenever the couple's teenage son steals his own parents' money Madame summons the little girl and calls her names: "Look it your ugly and dirty face, ... you thief I am sending you back to your stupid parents in the countryside ... Don't you dare look at me! ... I'm not your dirty and illiterate mother! ... Do you think I look like your stupid and voodoo practicing parents?"
The irony is that, however, as is the case for many Haitian middle and upper class families, Madame herself not only goes to catholic masses during the day but is in charge of the church choir while at night practices voodoo in her basement, says a neighbor who spoke to me on condition of anonymity.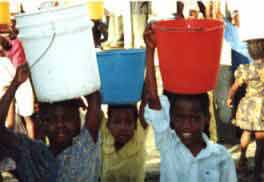 Like thousands of other kids in Haiti, sure their quality of life does not differ that of Ti-Marie.
Sometimes, Ti-Marie is severely beaten after being repeatedly raped by the husband and his teenage son in the middle of the night. Whenever she ventures into the modest dining room looking for some leftovers Madame and her son slap and kick her, and say "you dirty stupid peasant little girl go back to the dog house," a reference to the outhouse - "this is where you belong to."
Alas, as President Clinton was saying that he regretted the role the United States played in slavery, however, to the surprise of many it was well alive in Haiti, commonly referred as the back yard of the United States.
Only when Haiti has a government capable of delivering services and goods to the majority of its citizens will the very poor Haitian families cease to give their children away as slaves.
Yves A. Isidor is spokesperson for We Haitians United We Stand For Democracy, a Cambridge, MA-based nonpartisan political pressure group.
Wehaitians.com, the scholarly journal of democracy and human rights