Want to send this page or a link to a friend? Click on mail at the top of this window.
Posted September 11, 2005
Sex, tourism and politics mingle in Haiti movie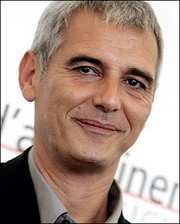 AFP - French director Laurent Cantet poses during a photocall for for the presentation of his movie 'heading ...
VENICE, Italy, Sept. 7, 2005 - A film about North American women looking for sex and sun in troubled 1970s Haiti opened at the Venice film festival, but the runaway success of the event so far is an animated movie, Tim Burton's "Corpse Bride."
French director Laurent Cantet's "Heading South," starring Charlotte Rampling and based on a novel by Radio Haiti journalist Dany Lafferriere, is a political metaphor that explores sexuality as an instrument of political and economic power.
It portrays three North American women who come alone to a Haiti beach hotel for relaxation and pampering as the country begins to convulse at the end of the notorious "Baby Doc" Duvalier regime.
The rich women shower local men with gifts and money, the men sell the only thing they possess, their bodies and their youth. The most sought-after of the young men is Legba, played by Menothy Cesar.
"The hotel is a small bubble where Americans come to forget the reality of their lives, which are filled with frustration, and rediscover their power of seduction," said Cantet.
"As for Legba, the hotel is the only place he can go to escape the harsh reality of this country and find a bit of affection."
Cantet's film, applauded by critics at Venice where it screens in competition for the Golden Lion, was partly shot in Haiti though the film had to be postponed for a year when the island was torn by the violence that ousted President Jean-Bertrand Aristide in late 2004.
"The desire of women is not often talked about in cinema, especially if it concerns women over 40. Here, not only do we talk about it, we listen to the women themselves talk about it," said Cantet.
By the end of the movie, Rampling's character Helen, who has built up a close relationship with the locals over years of similar vacations, finds herself the outsider when a police inspector investigating Legba's murder dismisses her evidence.
On a lighter note, Burton's inventive, funny and touching movie featuring the voices of Johnny Depp, Helena Bonham-Carter, Albert Finney and Christopher Lee earned loud and lengthy applause at the festival, where it is being shown out of competition.
Using painstaking stop-motion animation on plastecine figures 12 inches (30 centimetres) tall, "Corpse Bride" recounts a 19th-century Russian folk tale in which Victor, voiced by Depp, is whisked away to the underworld to marry the mysterious Corpse Bride (Bonham Carter), while his real bride Victoria ( Emily Watson) waits in the Land of the Living.
Finney and Joanna Lumley play Victoria's pompous parents Finis and Maudeline Everglot, while Victor's nouveau riche parents are voiced by Tracey Ullman and Paul Whitehouse.
"Corpse Bride" marks the fifth time the director has collaborated with Depp, who also starred in Burton's "Edward Scissorhands," " Ed Wood" and "Sleepy Hollow."
The veteran Lee, known for his previous roles as Dracula, plays an authoritarian pastor.
Copyright © 2005 Agence France Presse
Wehaitians.com, the scholarly journal of democracy and human rights