Want to send this page or a link to a friend? Click on mail at the top of this window.
Older Woman, Younger Men Bon in Haiti
By BARRY CAINE, STAFF WRITER
HARRISON FORD pairs up with Calista Flockhart; after a few weeks of headlines the story vanishes like a mote of dust.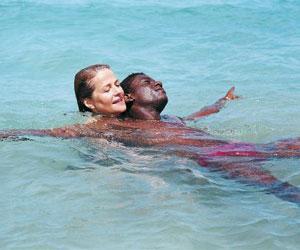 FOREIGN AFFAIRS: Ellen (Charlotte Rampling), one of three lonely tourists in Haiti, indulges herself with Legba (Menothy Cesar), a teen whom her companions also fancy, in Heading South.
Demi Moore becomes involved with Ashton Kutcher, and the relationship remains gossip fodder for infinity. It's the old double standard, still alive and snickering in the 21st century.
The continuing fascination with the older-woman, younger-man scenario combined with the apparent oddity of older women desiring sex and enjoying it helped make "Heading South" a cash cow in Europe.
There's no accounting for values.
In French director Laurent Cantet's late-1970s drama, the liaisons serve as springboards for meditations on sex as power and money as a tool of corruption.
Keeping track of the complexities is a difficult balancing act. Cantet sometimes stumbles, losing a thread, or letting a scene run too long.
The missteps are momentary.
In "Heading South," three lonely, unattached middle-age women — middle age here meaning 45 to 55 — travel to a resort in Haiti for fun, sex and more sex.
In a familiar conceit, each talks to the camera about the invisibility she experiences in the presence of men back home and the sense of renewal she finds at the oceanside resort.
The Haitian males, one 18, others in their early 20s, who frequent the beach act as if the women are vivacious, good-looking and sexually desirable; i.e., as the women would like to see themselves.
In return, the women treat the locals as boy toys and give gifts, sometimes money, for sexual favors and fawning.
Those are riches for a penniless local, despite unseen costs to his soul.
The imperfect paradise starts to crack when Ellen (Charlotte Rampling), queen of the roost, and Brenda (Karen Young of "The Sopranos"), a vulnerable, sex-starved newcomer, vie for Legba (Menothy Cesar), a buff, sexually dynamic teen.
Jealousy and possessiveness tighten the leash on the free-spirited young man, shifting the story's emphasis from the wealthy, predatory women to Legba, his impoverished countrymen, and their reactions to the oppressive regime.
As the triangle expands, insights into the three characters deepen.
They reveal the void inside the two women and their poorly disguised feelings for Legba. They also show Legba's growing awareness of what he's lost from the sexual encounters and how they fit into the political context.
Performances are strong all around, and intense.
Why Rampling, 60, plays a 55-year-old rather than someone her own age is a question best asked of the filmmaker.
Rampling's character wears the most masks, yet they're the most revealing.
She's excellent. The movie's intriguing. And it's worth a look.
E-mail Barry Caine at bcaine@angnewspapers.com, call (925) 416-4806 or write c/o 4770 Willow Road, Pleasanton, CA 94588. For more on movies or to check out Caine's blog "Sex & the Single Movie Critic," visit http://www.insidebayarea.com/movies.
© 2000-2006 ANG Newspapers |
Wehaitians.com, the scholarly journal of democracy and human rights