Letters/press releases to the editor
Want to send this page or a link to a friend? Click on mail at the top of this window.
My name is Rose Marie Gluto from marriage, and my maiden name is Bethance. My family is from the southern city of Les Cayes. I was born July 18 1955.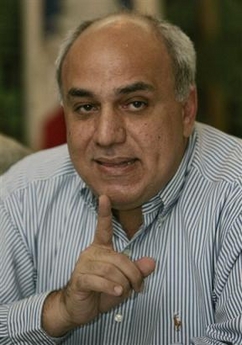 Dr. Reginald Boulos.
My family, including me, left Haiti in 1967. My family first lived in New York and later Florida, where I first graduated from Miami Dade College, in 1972, and ultimately received a Master's Degree in political science, from Florida International University.
I met my future husband in college and then we contracted marriage. We both worked hard, paid tuition and went to Greece, where my husband's family still resides.
Dr. Reginald Boulos, my mother was raped by the same people your father worked for - the Duvalier's. I do not blame him for it since he was not responsible but I have since made this crime my life's work, and this, in an attempt to bring to light all the corruption and injustices that are still going on in Haiti.
For 20 years I have been traveling back and forth to Haiti, investigating everyone involved, from the Duvalier regime, to the present one.
Also, I have been investigating the business sector and the degree of corruption, if not to also mention the way it has been pillaging and holding the country hostage, and this, to be precise, for the past 40 years.
It is nothing personal, but one thing is certain your family was the winner of a lottery of names that I dropped in a cookie jar, and you were the winner of my lottery.
The organization I work for has for the past 30 years been building a file on everyone, not just you and your brother, Rudolph Boulos, but others as well.
As a member of the senate, your brother Rudolph, a man who possesses three different nations' passports, fraudulently participated in the campaign process. Sure it is an indication that you and your brother represent the concept of the immorality personified in all villains.
My organization, that is my employer, has in its possession pictures of every members of your family, even that of your wife with her lover who is a lawyer.
My organization also has pictures of our "illustre" Senator with his mistress in Florida and that of his illegitimate child.
Also in possession of my organization are the files that prove the money stolen by your father.
The same organization of concern has in its possession files of all the contraband that you, your family, friends and partners have been involved in.
Don't worry, it will all come to light, and very soon.
If at any time I thought you would have permitted my articles to be published in your broadsheet, Le Matin, I would have gladly sent them to its editorial department. Why would they be immediately disposed, instead of being considered for publication? It is because you would not want to be exposed since your ambitions are that one day you will become prime minister or even president of our beloved Haiti.
Believe me, Dr. Boulos if you were an honest man I would have been the first one to vote for you, but it is not the case since your are involved so deep in the corruption and you kind have been holding Haiti hostage and pillaging it.
It is time for a real conscientious Haitian like myself to say ENOUGH IS ENOUGH.
I have given you the courtesy of e-mailing you this letter first before I send it to wehaitians.com, Omega, Haitian Politics, moun.com for publication and all the people I do correspond with.
Wehaitians.com, the scholarly journal of democracy