Letters/press releases to the editor
Want to send this page or a link to a friend? Click on mail at the top of this window.
THE OFFICE OF MASSACHUSETTS ATTORNEY GENERAL MARTHA COAKLEY
BILLERICA MAN FOUND GUILTY OF BRIBERY AND PASSING FALSE DOCUMENTS IN REGISTRY OF MOTOR VEHICLE SCHEME
Defendant Fled On Last Day Of Trial
Melissa Sherman (617) 727-2543
CAMBRIDGE - A Middlesex Superior Court jury convicted a Billerica man on charges of bribing Registry of Motor Vehicle clerks. The bribes were paid in exchange for false Massachusetts driver's licenses. A jury deliberated two hours on Friday, May 25, before finding Michelet Joacine, age 37, of Billerica, guilty of paying bribes (two counts) and uttering records (two counts).
Joacine, a native of Haiti, who had previously posted $40,000 bail on these charges, had attended the four previous days of trial before failing to appear in court Friday morning. Middlesex Superior Court Judge Hiller B. Zobel issued a default warrant for Joacine and ordered the trial to continue. State Police assigned to the Attorney General's Office are actively searching for Joacine and have contacted federal authorities for assistance. He is believed to have family connections in Florida. Anyone with information on his whereabouts is encouraged to contact the State Police assigned to the Attorney General's Office at (617) 727-2200. (Note: A photo of Joacine is also attached.)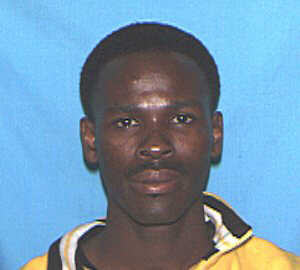 Michelet Joacine
In May 2004, State Police assigned to the Attorney General's Office arrested Joacine and two other former temporary RMV employees after a seven-month investigation into allegations the three were involved in a scheme to accept bribes in exchange for the issuance of full driver's licenses to people who were not eligible for legitimate licenses.
The two clerks worked at the RMV branch in Melrose, located at 40 Washington Street and at the Cambridgeside Galleria satellite RMV office during various periods in 2003. Registry officials detected fraudulent activity by one of the clerks and initiated an investigation which was then referred to the Attorney General's office. That investigation found that Joacine recruited clients in need of driver licenses and then directed them to RMV clerks within the Melrose RMV branch or the Cambridgeside satellite office. Joacine provided his clients with the forged documents necessary to obtain their licenses. Clients paid approximately $2,500 to Joacine, who in turn paid a portion of that money to the clerks. Authorities found that at least 100 licenses were unlawfully issued in exchange for bribes paid by Joacine.
Joacine is the latest defendant to be found guilty in separate schemes to falsify driver licenses and commit identity theft at the RMV. On May 7, 2007, Fridnel Lerick, 28, of Providence, R.I., was found guilty and sentenced to jail. A jury deliberated approximately four hours before finding Lerick, a former clerk at the RMV branch in Chinatown, guilty of falsifying operator's licenses (17 counts), attempted falsification of operator's licenses (2 counts) and identity theft (2 counts). Suffolk Superior Court Judge Janet Sanders sentenced Lerick to serve one year in the House of Correction to be followed by three years of probation.
If Joacine is located, he will face sentencing at that time. The case was prosecuted by Assistant Attorneys General Marc Jones and David Waterfall. Michelet Joacine
© 1999 - 2007 · Massachusetts Attorney General's Office
Related text: Billerica man, Michelet Joacine, bolts, then convicted in license scam
Wehaitians.com, the scholarly journal of democracy