---
Posted Thursday, June 14, 2007
Authorities find missing Haiti junior soccer team members
(CBS) QUEENS - The 13 members of the National Youth Soccer Team from Haiti who went AWOL at John F. Kennedy International Airport this morning have been accounted for, CBS 2 HD has learned. Two of the team's members were found in Boston.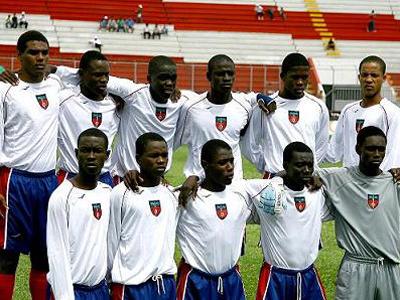 A group of Haitian youth soccer players apparently deserted the team during a layover at New York John F. Kennedy International Airport. (CBS/QUEENS Photo)
The group disappeared from the airport during a layover while heading to South Korea for the Youth World Cup. Officials initially believed the teenagers were playing a prank, but later the Consul General of Haiti told CBS 2 HD that they were led astray by friends and relatives living in the U.S., who might have manipulated them in to deserting the squad.
"They left JFK, and they were taken by some people. We don't know who," Consul General Felix Augustin told CBS 2.
Digg This Story!
The 18-member team arrived from Haiti, and had what was supposed to be a short New York stopover before taking off on a flight bound for South Korea for the FIFA Under-17 World Cup.
By late Wednesday, five or six players returned to the airport and turned themselves in to team officials, Augustin told CBS 2 News.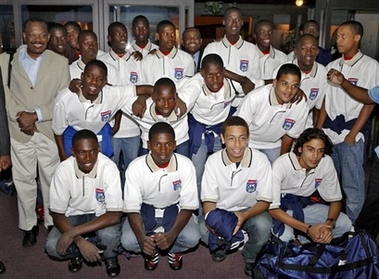 Members of a Haitian youth soccer team, whose players went astray after arriving at New York John F. Kennedy airport on Tuesday from Haiti for a layover before continuing to Korea, pose for a photo before boarding a bus taking them back to JFK airport on the evening of Thursday, June 14, 2007, in Queens, NY. After arriving at JFK airport, 18 players and their coaches went to a McDonald's near the airport where 13 of the players were allegedly picked up by relatives and friends, by Thursday morning, all of the 13 missing players were accounted for, with two on their way back from Boston. (AP Photo/Adam Rountree)
Their reasons for going AWOL still remained unclear, along with the identities of the adults who allegedly helped them.
"Most people, they want to leave for many reasons -- political, monetary -- and they think it's easy but its not that easy," said Daniel Monrose of the Haitian Centers Council.
Augustin said it is believed that adults not traveling with the team may be involved in the players' desertion and warned they could face criminal charges unless they turn over the minors.
"It is almost a criminal case. They were trapped at some point," Augustin told CBS 2.
Augustin added that any adults involved in the minors disappearance would be "prosecuted to the fullest extent of the law."
"These children were manipulated," Augustin said at a news conference in his Madison Avenue office. "It was organized. Absolutely."
He added that no charges have been filed yet.
Haitian officials have been making calls to members of the Haitian community to try to get the children back.
The World Cup event takes place in August -- with or without the team from Haiti.
Port Authority Police officers are assisting in the investigation.
Speaking to a Haitian Creole-language radio station in New York, the president of the Haitian Football Federation, Yves Jean-Bart, warned the youngsters that they were hurting their futures and threatened to involve U.S. authorities "unless these players reinstate themselves as soon as possible."
Haiti is the poorest country in the Western Hemisphere, and thousands of Haitians leave the country each year to escape miserable living conditions, violence and political instability.
A spokeswoman for U.S. Customs and Border Protection, Lucille Cirillo, said the agency would help investigators in any way possible.
But, she said, immigration officials would not typically become involved in such cases until the players had overstayed the time for which they were admitted, which could be up to six months.
The youths' disappearance is a major blow to Haitian soccer, which has been experiencing a resurgence after years of dismal performances.
The U-17s qualified for the biennial World Cup for the first time in Haitian history, while the men's team won the Caribbean Cup for the first time in January.
Augustin said he thought the players should continue to South Korea, but no plans have been made yet.
© MMVII, CBS Broadcasting Inc. Published June 14, 2007.
Wehaitians.com, the scholarly journal of democracy and human rights