---
Posted Thursday, January 25, 2007
Haiti celebrates its first Caribbean Cup title
PORT-AU-PRINCE, Haiti, Jan. 24, 2007 (AP) -- Hundreds of fans welcomed home Haiti's national soccer team on Wednesday, a day after it won the Caribbean Cup for the first time.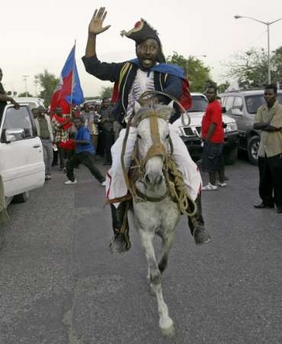 A man dressed as Haiti's late ruler Jean-Jacques Dessalines rides a horse while he awaits the arrival at the national airport in Port-au-Prince, Haiti January 25, 2007. Fans of the national team waited at the airport to welcome the team a day after the team won the 2007 Caribbean Cup for the first time in Trinidad. (REUTERS/Eduardo Munoz)
Haiti defeated Trinidad and Tobago 2-1 in the final at Port-of-Spain, Trinidad, its best result in the tournament's 18-year history.
About 100 supporters crowded around the squad's chartered plane and cheered as players emerged and held up the silver trophy. Hundreds more fans packed the airport's entrance, hoping for a glimpse of the team.
"Now we want to go to the World Cup in 2010. We have the means, we just proved it," Yves Jean Bart, president of the Haitian Football Federation, said as players toasted with champagne.
Haitians celebrated the win well into the night with fireworks and loud parties. Trinidad's team was weakened by the absence of many star players, who had club commitments.
Cuba defeated Guadeloupe 2-1 in the third-place game. All four nations qualified for the CONCACAF Gold Cup, the regional championship of soccer's North and Central American and Caribbean region. That tournament will be played in the United States from June 6-24.
Copyright 2007 Associated Press.
Wehaitians.com, the scholarly journal of democracy and human rights