Want to send this page or a link to a friend? Click on mail at the top of this window.
In Flights of Fancy, Haitian
Artists Belie Circumstances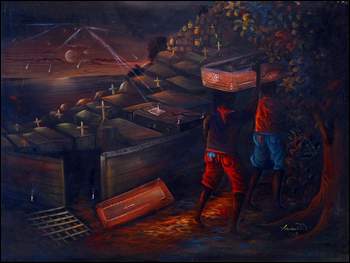 By ANNE GALLOWAY
Times Argus Staff
HAITI is infamous as the poorest nation in the western hemisphere. The country, which shares a Caribbean island with the much wealthier Dominican Republic, is like a case study in what the world's poorest of the poor endure. There is no running water. Where there is power, there are rolling blackouts. When the sun sets, the city of Port au Prince goes quiet: No TVs blare, no sirens scream. No lights stream into the darkness.
This is how Andrea Stefani describes Haiti. Periodically, she visits a group of Haitian artists in a village called Montrouis, which is an hour north of Port au Prince. Stefani, a teacher from Plainfield, has traveled in many Third World countries, but she says even she was shocked by the living conditions in Haiti. The hillsides have been denuded, the land is eroding and the climate is arid.
"Hardly anything grows there, it's just hard to imagine," Stefani says. About nine years ago, Stefani became involved in the Alternative Art Studio. At the studio, seven local artists teach about 40 homeless or orphaned children at a time how to paint and draw. They also provide one meal a day to the students. Stefani and retired Montpelier psychologist Bob Belenky, who helped found the program in 1995, sell the art that the instructors and their students make to raise money for the program.
Last spring, Stefani and Belenky held a benefit sale at the Kellogg-Hubbard Library that generated $4,000 for paints, canvases, supplies and medical bills. One of the goals of the studio is to help children, many of whom live on the streets, enroll in school. Even the public schools cost $100 to $200 per year because Haitian students are expected to pay for their own books and supplies, Stefani says.
This month about 50 paintings from the Alternative Art Studio are for sale at four different sites in central Vermont: the Kellogg-Hubbard Library, Langdon Street Café and Capital Grounds in Montpelier and at Maple Valley Store in Plainfield. They sell for $75 to $380 apiece.
The art does not directly reflect Haiti's poverty. The artists imagine lush jungles, African game animals, fields of cotton (once a viable crop there) and pineapple, gardens filled with delicate flowers and idyllic scenes of sailboats floating in quiet placid harbors. These are the works of a people desperate to hang onto fantasy. In a place where civil unrest, political upheaval and starvation are the rule, access to clean water and adequate food and ideals like peace and harmony, beauty and fulfillment, appear to be sacrosanct.
Stefani puts it this way: "Their paintings are the most creative expression of their willingness to think of a better life."
Instead of incorporating the brown ugliness around them in their paintings, the artists use intensely bright colors – blues, greens, oranges and yellows – to depict the kind of place they want to live in.
Stylistically, the acrylic paintings vary greatly, but generally are part of a Haitian folk tradition. They are naïve, colorful and often simplistic. And the subjects are almost invariably genre scenes involving small groups of people involved in a communal activity like tending gardens, harvesting, selling wares or fishing. Figures are types, not distinct characters. Individual women in a market, for example, might have different headscarves but otherwise look virtually identical.
There are about 15 paintings by four artists now at the library, the most prolific of whom is Renel Xavier, the head teacher at the studio. His paintings range from straightforward fishing scenes with a single angler to more complicated scenes involving multiple figures. Most of the images are surrealistically bright, like his dreamscape of women picking cotton under tall curving trees.
One painting in the show though is a reflection of the harshest aspect of Haitian life. Xavier creates a ghoulish scene in which pallbearers carry the body of a young person in a coffin up a hill past a vast cemetery. The figures and the coffin are cut off by the frame, further emphasizing the scale of the graveyard. The ocean and sky beyond melt together in a grey mush of pinkish green. Death is palpable. And given that the average lifespan in Haiti is 40, this macabre scene is all too real.
Stefani and Belenky don't pretend that their attempt to bring some comfort to a group of people in one small village is going to stave off Haiti's dire problems. But they are doing what they can, and they are giving us a tangible way to help, too.
© 2007 Times Argus. Published Friday, December 14, 2007.
Wehaitians.com, the scholarly journal of democracy and human rights