Want to send this page or a link to a friend? Click on mail at the top of this window.
Haiti-Born Filmmaker, Peck, Sets Sights on Karl Marx Biopic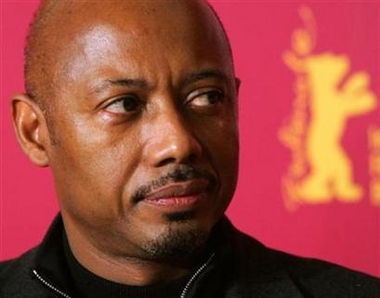 Reuters Photo: Haiti-born filmmaker Raoul Peck poses during a photocall for the U.S./Rwanda film 'sometimes in April' at the 55th Berlinnale International Film Festival in Berlin February 17, 2005.
PARIS (Hollywood Reporter) - Haiti-born filmmaker Raoul Peck will direct "Karl Marx," tracing the young adventures of the German philosopher and revolutionary, the project's producer said.
The picture will cover the period 1830-1848, including Marx's time in Paris before being expelled to Brussels and culminating with the publication of the Communist Manifesto.
"Marx was considered a young genius at the time, but it was also a period marked by the birth of a great movement in thinking," said producer Jacques Bidou.
The story also will encompass Marx's love for his aristocratic wife Jenny von Westphalen, and his friendship with Friedrich Engels, with whom he co-authored the Manifesto.
No cast is yet attached, but Bidou said the principal characters will necessarily be young. "Raoul very definitely wants to make this a film for a wide public," he said.
The $20 million English-language movie is penciled in to begin shooting in February in France, Germany, Belgium and Luxembourg, for delivery at the end of that year.
Peck ventured down the biopic trail in 2000 with "Lumumba," a project about Congolese leader Patrice Lumumba.
Reuters/Hollywood Reporter.
Published Friday, May 4, 2007.
Wehaitians.com, the scholarly journal of democracy and human rights