Want to send this page or a link to a friend? Click on mail at the top of this window.
First published in The Washington Times, March 25, 1996
Cambridge, Massachusetts - On Dec. 17, a cynical game called "presidential elections" was again played in Haiti. Rene Preval, Jean-Bernard Aristide's hand-picked successor, was said to have been elected with 87.9 percent of the vote.
Mr. Preval, who last week met for the first time with U.S. President Bill Clinton at the White House since becoming president, has rather interesting credentials. He is a a former neighborhood baker, and a man who is viewed by many as a dangerous radical.
Yet Mr. Preval is also former prime minister for seven months in Aristide 1991 government. As such, he was often criticized as a mediocre administrator and negotiator. This led many to conclude he should be offered a tutorial in these areas.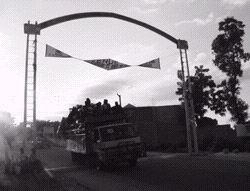 Public transportation in Haiti's tyrant Jean-Bertrand Aristide.

The problems inherited today by Mr. Preval from Aristide will not be envied by any Haitian. Haiti has the weakest economy in the Western Hemisphere with an estimated 85 percent unemployment rate. Its per capita gross domestic product is less than one third the average of the Western Hemisphere.

Not only is 64 percent of the country's minuscule national budget financed through foreign aid, but more than $125 million in foreign assistance is being held up by the United States and other donors as the result of a dispute over the privatization of state enterprises. And without that aid the government is certain to run out of money this spring.

Haiti has many more problems than these: degraded land, poor roads, most of them virtually impassable during the rainy season; it barely produces enough electricity to keep one U.S. skyscraper illuminated. About 20 percent of Haiti's population of 7 million receive one meal a day from international feeding organizations (i.e., the Atlanta-based Care Foundation) to keep them going, to keep them alive. While the country's population is growing at an annual rate of 1.9 percent and projected to reach approximately 8 million by the year 2,000, projections by experts suggest that it will soon face competition for food assistance. A recently released report by the Food and Agricultural Organization indicates that the global availability of food aid this year is 7.6 million tons, one million tons less than 1994 and is expected to be even less in the years to come.

Other problems are worth considering. Disease (i.e., AIDS, malaria, tuberculosis, gastroenteritis) is rampant; robbery, rape, and murder are the order of the day, and most of the time victims are forced to take revenge on their perpetrators, since the judicial system is in a shambles and new the police force ineffective. In most provincial towns and cities there are no police or judges at all.

Another major problem facing Mr. Preval is, of course, the opposition, which does not recognize him as a legitimate president and vows to derail his presidency.

What message does Mr. Preval have for the Haitian people other than saying vaguely that "my two top priorities would be protecting the people from political violence and rebuilding the economy? He does not have an economic and political program for Haiti. The affairs of Haiti are too important to be run by the day, improvised by a president who has nothing better to offer.

Mr. Preval should not be President of Haiti, among other things because of the very reason Mr. Aristide says he should be: "Preval and I are twins." It is, to be sure, an indication of what the Preval presidency will produce. Economic, political and social conditions will grow ever worse in Haiti.

Yves A. Isidor is spokesperson for "We Haitians United We Stand For Democracy," a nonpartisan political pressure group.

Wehaitians.com, the scholarly journal of democracy and human rights