Want to send this page or a link to a friend? Click on mail at the top of this window.
Posted September 21, 2003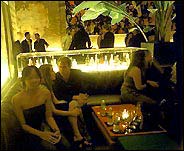 Rbecca Cooney for The New York Times
Modeled after Haitian Gentlemen's Clubs from the 1940s, PM, a new nightclub in the meatpacking district, has a Caribbean flavor.
IS it possible to have a trendy, celebrity-packed nightclub that isn't tacky? PM, a new lounge in the meatpacking district in the West Village, seems to have accomplished it. The space, beautifully designed by Robert McKinley, who has worked in the creative departments at Giorgio Armani and Donna Karan, is modeled after gentlemen's clubs in Haiti built in the 1940's. (Three of PM's owners, Kyky, Unik and Dimitri, go by one name and were born in Haiti; the fourth, Adam Hock, is a Westchester native.)
A small converted warehouse that most recently housed an Italian restaurant, Chinghalle, it feels like Haiti, tropical and raw, tricked out for a New York City runway. Two large photographic murals hang on the distressed brick walls, and lush palm trees and Caribbean-style concrete blocks line the room.
On opening night on a recent Saturday, celebrities and models showed up in force for the after-party for the Brazilian swimwear designer Rosa Cha, cramming into leather booths designed so guests can slide out easily for maximum table-hopping.
Venus Williams was there sipping Champagne, and in the next booth was Pharrell Williams, the model-chasing half of the Neptunes, entertaining an entourage of women. Naomi Campbell, wearing a zebra-print minidress, vamped around.
"It's sensual, like the Caribbean," Ms. Campbell said, smiling for photographers and television cameras.
"Kyky and Unik are amazing." Kyky and Unik have been promoting A-list parties in downtown Manhattan for the last nine years.
"They come for the energy," Unik said from the mezzanine, watching the people below. "It's meant to feel like a show."
To fuel the high-octane spectacle, only patrons who know the owners are allowed past the stately mahogany facade. Otherwise, they must submit to an impromptu background check, which, according to Unik, consists of asking other patrons about who you are and what you do.
Daniela Urzi, an Argentine model who is in the Hugo Boss fragrance campaign and is one of PM's investors, sat with a group of model friends. "I like the lighting," she said. "I will be coming here a lot."
By 1 a.m., Prince's song "Kiss" was blaring through the sound system. Revelers grabbed their Champagne flutes, stood up on the banquettes and started to dance in place.
Unik looked up at the skylights and spread his arms. "We are blessed," he said.
Copyright 2003 The New York Times Company. Reprinted from The New York Times, Fashion & Style, of September 20, 2003.
Wehaitians.com, the scholarly journal of democracy and human rights