Haitians are all proud of him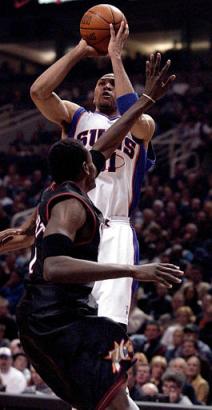 Phoenix Suns' Shawn Marion shoots over the reach of Philadelphia 76ers' Samuel Dalembert, of Haiti, during the third quarter of the Suns' 100-92 victory Sunday, Dec. 28, 2003 ,in Phoenix. (AP Photo/Tom Hood)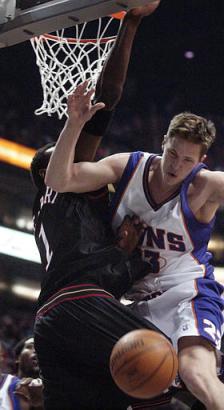 Phoenix Suns 'Casey Jacobsen, right, loses the ball as he collides with Philadelphia 76ers' Samuel Dalembert, of Haiti, in the second quarter Sunday, Dec. 28, 2003, in Phoenix. (AP Photo/Tom Hood)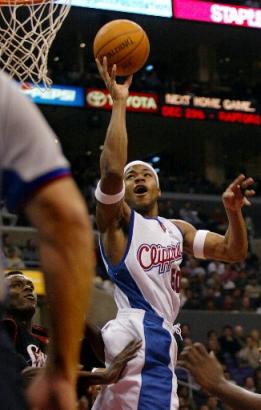 Los Angeles Clippers' Corey Maggette takes a shot while Philadelphia 76ers' Samuel Dalembert of Haiti tries to guard him during the first half Friday, Dec. 26, 2003, in Los Angeles. (AP Photo/Jill Connelly)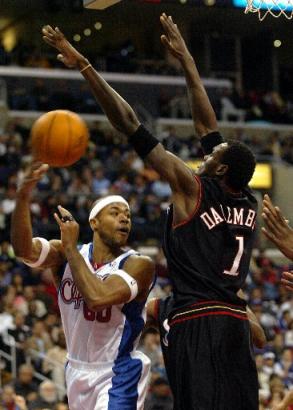 Los Angeles Clippers' Corey Maggette makes a pass around Philadelphia 76ers' Samuel Dalembert of Haiti during the first quarter Friday, Dec. 26, 2003, in Los Angeles. (AP Photo/Jill Connelly)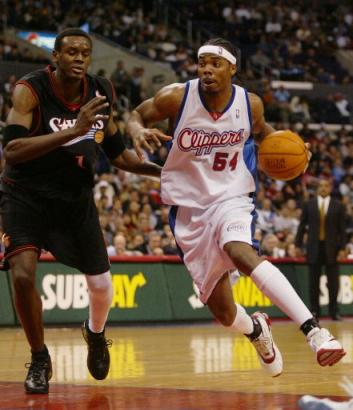 Los Angeles Clippers' Chris Wilcox drives around Philadelphia 76ers' Samuel Dalembert of Haiti during the first quarter Friday, Dec. 26, 2003, in Los Angeles. (AP Photo/Jill Connelly)
By Joe Juliano, Inquirer Writer
Samuel Dalembert undoubtedly was the tallest soccer player in his neighborhood in Haiti as a young teenager. Then he saw a film clip from an old NBA game that turned him on to basketball.
"When I saw Dr. J dunk for the first time, I got excited," Dalembert said, referring to Julius Erving, the former 76ers great. "I started falling in love with basketball. That's when I started to try to play. But I wasn't good at it. The guys wouldn't pick me because I didn't know how to play."
Basketball wasn't played a lot in Haiti when Dalembert was growing up. A basket support and rim were too expensive. Youngsters in his area of Port-au-Prince would take a wire coat hanger, bend it into a crooked circle, and attach it to a board. Soccer was a lot cheaper.
However, Dalembert, who first picked up a basketball at age 13, determined that his new sport would be his ticket to a college scholarship in the United States. He set out to learn all he could about the game.
As Dalembert grew to his current height of 6-foot-11, his basketball skills gradually developed on a road that took him from Haiti to Montreal to St. Patrick's High School in Elizabeth, N.J., to Seton Hall and, eventually, to the Sixers. While he regrets not having an opportunity to learn about or play the game earlier in his life, he is doing something to help children learn about basketball, and about life. He is honorary commissioner of the Sixers' La Liga del Barrio, the city's first Latino youth basketball league, with a membership of about 400 boys and girls between the ages of 6 and 16.
"Since I'm from Haiti, we know what it is to be on the islands, how it is to be a minority group," Dalembert said. "To be able to have activities like this, it's a lot of fun. I was excited when they asked me to be the commissioner. I enjoy myself a lot over there.
"Basically, I talk to the kids and do some activities. We had a small clinic for them this year. I did a couple of sprints with them. They were excited. They like it. They like me being a part of it and not just being a robot.
"The kids will look up at me and say, 'He's big.' They enjoy themselves. There are a lot of talented kids athletic-wise. Some don't know too much about basketball, but they still enjoy themselves. It's great to see the happiness on their faces."
Dalembert, 22, in his second season as honorary commissioner, was joined by teammate Amal McCaskill; assistant coach Alex English; the 76ers' ambassador of basketball, World B. Free; and former Sixer Ollie Johnson at La Liga's opening-day clinic earlier this month.
La Liga participants make up 28 teams. They play every Saturday at the Thomas Edison High School gymnasium. Dalembert tries to attend on certain weeks as practices and games permit.
This is the fourth year the 76ers have supported La Liga. The team's president and general manager, Billy King, said the league's primary purpose was to promote educational achievement and discipline, and teach youths basketball skills and how to enjoy the game.
"I think it shows the community that the Sixers are involved and that the Sixers care about them," King said.
"When I first came here," he said, former Sixers president Pat Croce "told me his theory was, 'If there's basketball in Philadelphia, we want to be involved in it.' And that's how we look at it."
Selected players from La Liga will play at the Wachovia Center on Feb. 11, before the Sixers' game against Washington.
Much of Dalembert's enjoyment in being involved with La Liga stems from his still being a kid at heart.
"It's fun for me because it's like reliving your youth," he said. "It's seeing them be happy with the professional players. These things have been organized for them to have fun with each other. Something like this keeps the kids out of trouble so the mother doesn't have to be worried."
Dalembert can identify with their excitement. He used to eagerly anticipate weekends in Haiti, where he and his friends would organize soccer tournaments against different streets. As he gravitated toward basketball, he loved the physical aspects of the game, the running and jumping.
Dalembert played organized ball for the first time as a high school sophomore in Montreal. After two years there, he played the final year and a half of high school at St. Patrick's, where his limited number of games didn't stop him from becoming the school's career leader in blocked shots.
After two years at Seton Hall, Dalembert became the Sixers' first-round pick in the 2001 draft. He saw limited action in his first season, and none in his second because of knee surgery. He remains a work in progress this season but has shown flashes of fine play, and is averaging 5.7 points and 4.7 rebounds.
"It's been a journey, but it's been fun," he said. "With all the negativity, the hurt and the pain, my goal has always been: I can get through it. Now I'm getting minutes and enjoying it, and who could ask for better than that? I've been grateful."
Dalembert wants to spread what he has learned to others. He is thinking about conducting a weeklong summer clinic in Haiti and has talked about it with Olden Polynice, a Haitian-born NBA player. He said he also would be willing to work with promising young La Liga members in the off-season if asked.
"I'd love to do that, in the summertime if possible," he said. "If there's a kid who needs some extra work or something, I would volunteer and work with them and show them the things I'm learning here. That way, they can be prepared if they decide to play in high school or college."
For information on La Liga del Barrio, contact program director Julani Ghana at 215-339-7660 or visit the 76ers' Web site, www.sixers.com. Contact staff writer Joe Juliano at 215-854-4494 or jjuliano@phillynews.com.
Reprinted from The Philadelphia Daily News and Inquirer of December 24, 2003.
Montreal stop linked centre's past and future
By ROBERT MacLEOD From Friday's Globe and Mail
Friday, December 5, 2003 - Page 82
PHILADELPHIA - At about the age of five or six, growing up in Port-au-Prince, Samuel Dalembert's grandmother started showing him pictures of a young woman whom she said lived in some faraway city called Montreal.
The woman, Dalembert was told, was his mother. "When I was growing up, I always thought my grandmother was my mom," the engaging centre with the Philadelphia 76ers recalled.
"But when I started to get a little older, she started showing me some pictures, telling me, 'This is your real mom.' That kind of hit me a little bit."
Although he is not a Canadian citizen, Montreal holds a special appeal for the 6-foot-11, 250-pound shot-blocking specialist. Shortly after his birth, Dalembert's mother and father left Haiti and settled in Montreal to establish a new life for the family they left behind but planned to send for later.
It would be more than 10 years, when Dalembert was 14, before he would be reunited in Montreal with his parents. And it was in Montreal where the lanky youth started to play organized basketball. That would eventually result in the 76ers selecting Dalembert with their first-round pick (26th overall) in the 2001 National Basketball Association draft.
"It was crazy," Dalembert said of that initial meeting with his parents in Montreal. "For me, I just wanted to see my biological parents for basically the first time. That was my curiosity. Then after my curiosity was satisfied, it was really nothing different. I was still calling my grandma mom."
Dalembert's parents were no longer together, and he wound up moving into his mother's apartment. A soccer fan growing up — Pele was his hero — Dalembert also started to take basketball seriously , first at Lucien-Pagé high school and then at Surenpagge high.
But as Dalembert was quick to learn, hockey reigned supreme in Montreal and he felt his growth as a basketball player was being stunted.
"It was tough in Montreal, mostly hockey," Dalembert, 22, said. "I was looking for a high school where I could play and the college coaches could see me."
Dalembert, who has a 7-foot-7 arm span, wound up transferring to St. Patrick's High School in Elizabeth, N.J., where Al Harrington, now with the Indiana Pacers, was one of his teammates.
After two years, he became the school's career leader in blocked shots, and that was enough to attract the interest of Seton Hall University, which offered Dalembert a basketball scholarship.
As a sophomore, Dalembert became Seton Hall's career leader in blocked shots with 167, averaging 8.3 points, 5.7 rebounds and 2.1 blocks in his second season. After that, Dalembert declared himself eligible for the NBA draft, although his skills were considered raw. The 76ers selected him with the third-last pick in the first round.
Dalembert said the reason he came out early is that he needed a regular paycheque to pay for his now-ailing grandmother's health care in Haiti.
His development in Philadelphia has been slow. In his rookie season, he played in only 34 games, averaging just more than five minutes of playing time. His second season was wiped out by a left knee injury.
This season, with starting centre Derrick Coleman battling knee problems, Dalembert has found himself the centre of attention, starting in eight of Philadelphia's 20 games. Heading into last night's game against Chicago, he was averaging 5.1 points, 1.7 blocks, 4.4 rebounds and 17.9 minutes.
"He's done well," 76ers general manager Billy King said of Dalembert. "The fact he's healthy is the biggest thing. I think now he's gaining the confidence and experience that he is, he's getting better every game."
Globemedia Publishing Inc.
Wehaitians.com, the scholarly journal of democracy and human rights