Want to send this page or a link to a friend? Click on mail at the top of this window.
First published June 27, 2000, in The Standard-Times
Crush Haiti's leftist dictators
Cambridge, Massachusetts - Leftist Haitian dictator Jean-Bertrand Aristide, anti-United States drug baron Jean-Bertrand Aristide, has been thinking hard of late - about the fraudulent May 21 elections for parliament and thousands of local administrative positions in Haiti, upon which his consolidation of the dictatorship of the proletariat depends.
That a May 5 Port-au-Prince U.S. Embassy communiqué said the U.S. fully supports the Organization of American States decision not to validate the results for the May 21 elections, Aristide's anti-imperialism went on the rise Monday, bringing squawks of protest from his paid bandits demanding the immediate publication of the long-delayed vote results.
Bandits in the capital city of Port-au-Prince had reportedly burned in effigy U.S. President Clinton. Outside the U.S. Embassy in Port-au-Prince, bandits set tire barricades aflame and chanted anti-American slogans.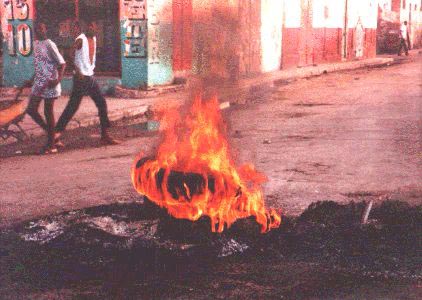 A political opponent ordered burned alive by brutal dictator Jean-Bertrand Aristide.

"Down with the U.S.! The U.S. is a nation of thieves. The thieves of that nation will not be allowed to steal our elections," said the bandits carrying concealed weapons, though many of them too poor to even buy themselves one meal a day.

As the well-orchestrated protest became more violent, police did nothing but watch. "We are not going to let the thieves steal our elections. There are so many thieves inside," a reference to the U.S. embassy compound, "and will burn them all alive," chanted in unison many of the skinny-bone and dirt poor bandits.

At the nearby United Nations' Plaza, bandits had a particular reason to continue their anti-U.S. protest: An American flag was there. They lowered the flag and nearly set it ablaze before police ferociously grabbed the flag that one of the men holding it fell to the ground. Successive attempts to re-enter possession of the flag failed. Still, no one was taken away in handcuffs.

In a scene reminiscent to the stoning of the Papal Nuncio Apostolic private residence in the capital city of Port-au-Prince, in 1991, former Haitian President Aristide's bandits, who have been educated in the notion of Maoism, stoned last week that capital city U.S. Embassy. The windshield of a car parked in the Embassy's front yard was broken. Civilized citizens who were accustomed to some of the Embassy's halls could hardly recognize them since they were all whitewashed with human excrement.

Here again Aristide violently turns against the U.S. that returned him to power in 1994 at the cost (accounting and economic) of more than $3 billion. The U.S., which donated $12 million for the elections or masquerade, would have done the cause of democracy in Haiti a particular favor by keeping the dangerous, the notorious leftist terrorist, who Fidel Castro and consort admire so much, in exile for ever.

But many things can, too, be said with reasonable confidence about leftist Haitian President Rene Preval, Aristide's political godson. He has allowed Haiti to become a transshipment point for Colombian drugs entering the United States. Since November, U.S. customs has seized, at least, 5,875 pounds of cocaine from ships out of Haiti.

Despite a top election official, Leon Manus, fled the country Friday after receiving repeated death threats, leftist Preval published Monday bogus results for the May 21 elections, giving Aristide's Family is Life party an absolute majority in the next Haitian Senate Chamber. 16 senate seats were said to go to Aristide's party, just one short of the 17 seats that were for grab.

Even though Haiti is called "republic", the 16 senators-elect, including deputies and hundreds of men and women for local administrative positions, did not get their jobs because of the will of the people who had been fed an extraordinary stream of anti-U.S. propaganda. Since they all pledge total allegiance to Aristide, they got their jobs because of his terror apparatus and pronounced fraud. That means their claim to legitimacy is extremely thin.

The Caribbean nation of Haiti, where Aristide and Preval symbolize everything that goes wrong, is not a democracy. Not even an imperfect democracy. It is, rather, the land of terror, the land of cocaine. Since it is so, crush the Preval-Aristide dictatorship of the proletariat. The U.S. must impose a blanket of economic and political sanctions on Haiti. The U.S. must indict Aristide and Preval for drug trafficking. Only then will the dangerous dictators behave.

Yves A. Isidor teaches economics at the University of Massachusetts-Dartmouth and is spokesperson for We Haitians United We Stand For Democracy, a Cambridge, MA-based nonpartisan political pressure group.

Wehaitians.com, the scholarly journal of democracy and human rights