Want to send this page or a link to a friend? Click on mail at the top of this window.
Choreographer launches rhythmic quest for identity
By MOLLY GLENTZER, Houston Chronicle Writer
JANUARY 21 - Dance is often a spirited business for African-Americans.
In the 19th century, slaves known as fist-and-heel worshippers clapped, stomped and body-slapped to keep their rhythms alive after their drums were taken away. The fist-and-heel traditions of 19th century Africans inspire Reggie Wilson's choreography. It's part of Introduction, debuting Jan 23-24 at DiverseWorks.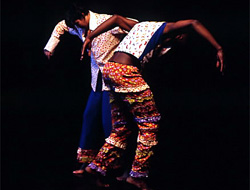 The fist-and-hell traditions of 19th century Africans inpire Reggie Wilson's choreography. It's part of introduction, debuting Jan. 23-24 at Diverseworks.
The sacred rituals of Haiti and Jamaica inspired Chicago's Katherine Dunham from the 1930s to the 1960s. Alvin Ailey, a Texan who moved to New York, poured his childhood memories of Negro spirituals into his art from the 1950s to the 1980s.
Now it's Reggie Wilson's turn. Like Dunham and Ailey, he has created his own movement vocabulary inspired by religious roots. But his path wasn't so clear-cut.
Wilson's quest to integrate his "personal reality" into his dances began at New York University's Tisch School of the Arts. His research took him home to Milwaukee to interview family and friends at the church his family attended, then to churches and juke joints in the Mississippi Delta, where his ancestors had been slaves.
Wilson wanted to reconstruct dances his ancestors might have done, but he could only trace his people as far back as the early 1800s.
"I still didn't know if they came from the Caribbean or direct from Africa," he says. He took an educated guess and went to Trinidad and Tobago, where "Spiritual Baptists" combined African traditions with Protestant Christianity.
I won't tell you the entire story here, because it's part of Introduction, the work that begins Reggie Wilson / Fist and Heel Performance Group's Texas debut performances Friday and Saturday at DiverseWorks.
"It's very soft science," he says. His own perspective adds an important layer. "It gives me the liberty to change things as appropriate for the concert dance stage. It's an ongoing laboratory: seeing something, stealing something, creating something and seeing how they work together."
Introduction grew out of the pre-performance talks Wilson used to give to make people more comfortable with his work. He incorporates other theatrical devices, such as singing and acting, to give people more references, he says.
"My work might take (your imagination) to a nightclub, a church, a ballet class, a Caribbean beach or deepest, darkest Africa -- all in 30 seconds," he says.
Wilson also is bringing a new dance, his first-ever for an all-male cast, called Big Brick -- A Man's Piece. "All the double-entendre is intended," he says. "When you put four good-size African-American males onstage, there's a certain sensuality attached to it. I wanted to deal with that up front."
The abstract dance is postmodern, in his own vocabulary. The cast also includes four singers, whose vocals were adapted from Wilson's research in Zimbabwe and Trinidad and Tobago.
Wilson has choreographed since junior high school but was leaning toward a performing career after he graduated from college. He danced in New York with Ohad Naharin's company until a serious knee injury forced his plans into a sharp left turn.
Reggie Wilson / Fist and Heel Performance Group, founded in 1989, is now a fixture on New York's downtown dance scene. The company has performed at festivals throughout the world and continues to work with community, religious and performance groups in Africa and the Caribbean. Wilson was a Guggenheim Fellow in 2002 and also won a Bessie (New York's dance Oscar) that year.
DETAILS: Reggie Wilson / Fist and Heel Performance Group will perform at 8 p.m. Friday and Saturday at DiverseWorks, 1117 East Freeway. Tickets are $8-$15. Call 713-335-3445.
Reprinted from The Huston Chronicle of January 21, 2004.
Wehaitians.com, the scholarly journal of democracy and human rights