Want to send this page or a link to a friend? Click on mail at the top of this window.
Posted September 10, 2007
Brother, I'm Dying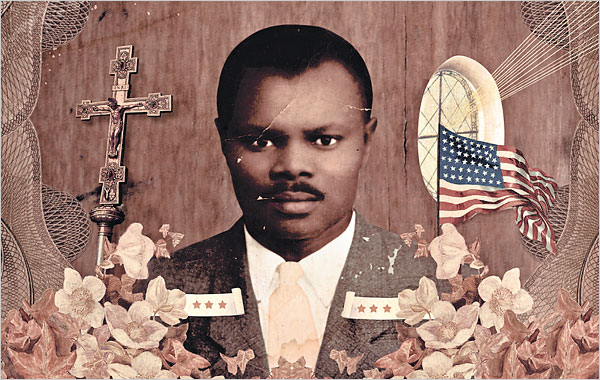 Misprinted
By JESS ROW
Joseph Dantica, one of two brothers at the heart of this family memoir, was a remarkable man: a Baptist minister who founded his own church and school in Port-au-Prince, Haiti; a survivor of throat cancer who returned to the pulpit using a mechanical voice box; a loyal husband and family man who raised his niece Edwidge Danticat to the age of 12, when she joined her parents in Brooklyn. (The "t" at the end of "Danticat" is the result of a clerical error on her father's birth certificate.) When Dantica fled Haiti in 2004, after a battle between United Nations peacekeepers and chimères — gang members — destroyed his church and put his life in jeopardy, he was 81, with high blood pressure and heart problems, and yet for 30 years had resisted his family's pleas to emigrate to the States. He intended to return and rebuild his church as soon as the fighting stopped. But to the Department of Homeland Security officers who examined him in Miami, his plea for temporary asylum meant he was simply another unlucky Haitian determined to slip through their fingers. When he collapsed during his "credible fear" interview and began vomiting, the medic on duty announced, "He's faking." That refusal of treatment cost him his life: he died in a Florida hospital, probably in shackles, the following day.
BROTHER, I'M DYING
By Edwidge Danticat
272 pp.
Alfred A. Knoff. $23.95.
How does a novelist, who trades in events filtered through imagination and memory, recreate an event so recent, so intimate and so outrageous, an attack on her own loyalties and sense of deepest belonging? The story of Joseph Dantica could be, perhaps will be, told in many forms: as a popular ballad (performed, in my imagination, by Wyclef Jean); as Greek tragedy; as agitprop theater; as a bureaucratic nightmare worthy of Kafka. But Edwidge Danticat, true to her calling, has resisted any of these predictable responses. "Anger is a wasted emotion," says the narrator of "The Dew Breaker," her most recent novel; in telling her family's story, she follows this dictum almost to a fault, giving us a memoir whose cleareyed prose and unflinching adherence to the facts conceal an astringent undercurrent of melancholy, a mixture of homesickness and homelessness.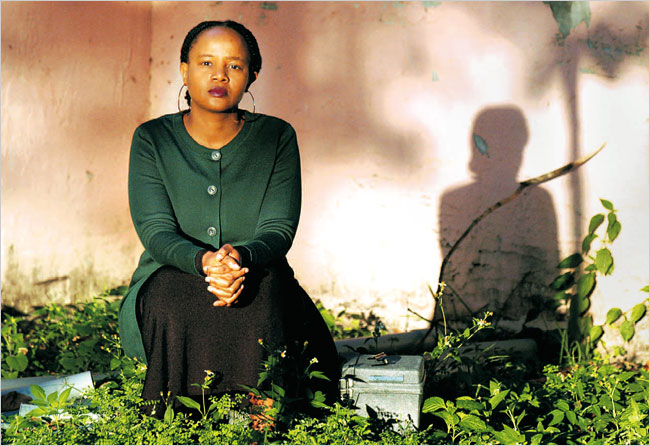 Barbara P. Fernandes for The New York Times
Edwidge Danticat
Haunting the book throughout is a fear of missed chances, long-overdue payoffs and family secrets withering on the vine: a familiar anxiety when one generation passes to another too quickly. In the first chapter Danticat learns she is pregnant with her first child just as her father, Mira, receives a diagnosis of pulmonary fibrosis and loses his livelihood as a New York cabdriver after more than 25 years. At a family meeting, one of his sons asks him, "Have you enjoyed your life?" Mira pauses before answering, and when he does, he frames the response entirely in terms of his children: "You, my children, have not shamed me. ... You all could have turned bad, but you didn't. ... Yes, you can say I have enjoyed my life."
That pause, and that answer, neatly encapsulates an unpleasant, though obvious, truth: immigration often involves a kind of generational sacrifice, in which the migrants themselves give up their personal ambitions, their families, native countries and the comforts of the mother tongue, to spend their lives doing menial work in the land where their children and grandchildren thrive. On the other hand, there is the futility, and danger, of staying put in a country that over the course of Danticat's lifetime has spiraled from almost routine hardship — the dictatorship of the Duvaliers and the Tontons Macoute — to the stuff of nightmares. Danticat's father and uncle stand on opposite sides of this bitter divide.
It is Joseph's story that takes up the better part of the book. He began life in a farming family in the rural town of Beauséjour, moved to Port-au-Prince in the late 1940s to seek a better life and fell under the sway of the populist leader Daniel Fignolé, who became president but was deposed three weeks later and was eventually replaced by François Duvalier. Joseph's disenchantment with politics and gift for rousing oration led him to the Baptist church, and for more than four decades he served as a pastor, school principal and community leader, doing the quiet work of maintaining and uplifting the people around him — including his large extended family. Though he was a strong supporter of Jean-Bertrand Aristide, he served as a witness and chronicler of the crimes and abuses committed by all sides. Had his life and Haiti's history turned out differently, his records and eyewitness reports — destroyed in the burning of his church — might have been used as evidence in human rights tribunals bringing the country's leaders to justice.
All of which makes what happened to him in 2004 the more outrageous. In Danticat's recounting, the United Nations peacekeepers who arrived to stabilize the country after Aristide was forced into exile appear far more interested in battling local gangs than in serving the traumatized civilian population. The Creole expression for this kind of governance is "mòe;de soufle": "where those who are most able to obliterate you are also the only ones offering some illusion of shelter and protection." Joseph Dantica's greatest failing, it appears, was his refusal to cut deals or strategize; his withdrawal from politics early in life left him without the instincts or vocabulary to defend his church and himself. He arrived in the United States holding a valid tourist visa, but because of the circumstances and his intent to return later than he had originally planned, he insisted on asking for "temporary asylum," not fully comprehending what this meant. Had he not clung so stubbornly to his own truth, he might still be alive.
After his brother was buried — against his wishes, not in Haiti but in Queens — Danticat's father declared: "He shouldn't be here. If our country were ever given a chance and allowed to be a country like any other, none of us would live or die here." Danticat lets this stand without comment; we are left to imagine how painful it must have been for her and her American-born siblings to hear this sentiment spoken aloud. Are Haitians in America immigrants, and the children of immigrants, or exiles? Do they accept a hybrid identity, a hyphen, or do they keep alive the hope of "next year in Port-au-Prince," so to speak? Of course, in one sense, it's a pointless question: when her parents couldn't understand her "halting and hesitant Creole," Danticat reports, they would respond, "Sa blan an di?" — "What did the foreigner say?" She and her brothers, from all appearances, are fully, firmly assimilated; her own success, as a writer of novels in a distinctly American idiom — English being her third language — is the ultimate proof of that.
There is, however, such a thing as self-imposed, psychic exile: a feeling of estrangement and alienation within one's adopted culture, a nagging sense of homelessness and dispossession. "A man who repudiates his language for another changes his identity," wrote E. M. Cioran, a Romanian exile in Paris for nearly 60 years: "He breaks with his memories and, to a certain point, with himself." "Brother, I'm Dying," in its cool, understated way, begins to gesture in that direction. Danticat's father died shortly after Joseph and was buried under the same tombstone; she imagines them together again in Beauséjour, reconciled and happy once more. But she makes no indication of how she might reconcile these shattering events with her own near-miraculous American odyssey. It's hard to imagine how anyone could.
Jess Row is the author of "The Train to Lo Wu," a collection of stories.
Copyright 2007 The New York Times Company. Reprinted from The New York Times, Book Review, of Sunday, September 9, 2007.
RELATED TEXT: Fitting together the pieces of a tragedy
Wehaitians.com, the scholarly journal of democracy and human rights