Want to send this page or a link to a friend? Click on mail at the top of this window.
As Each Dish Tells A Story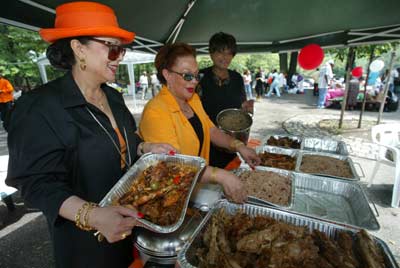 On Saturday, August 2, 2003, (from left) Myreille Dorsinville holds a chicken Creole style dish, Jeanine Sakhranie holds a beans and rice dish and Yotschika Dambreville holds a rice and mushroom dish as they set up food to be reheated under a tent at the "L'ABAPEC" (Les Amis du Bas de Peu de Choses) Haitian family picnic at Forest Park in Queens. (Newsday Photo/Julia Gaines)
By Martin C. Evans STAFF WRITER
IN Africa, griots are storytellers, conveying local tradition through spoken tales handed down from generations before. But in Haiti, griots of a different sort tell stories of the mouthwatering kind.
Haitian griots - marinated morsels of pork shoulder that are deep-fried - are among an array of summer picnic foods that tell of the culinary marriage of Africa and Latin Europe, as consummated in the New World.
So when more than 2,000 Haitians gathered earlier this month to celebrate their Port au Prince neighborhood at an annual picnic in Forest Park in Queens, most people left the hot dogs and hamburgers behind. Instead, they feasted on griots, peas and rice, Creole chicken and other foods - either brought from home or purchased from vendors - that reminded them of the Antilles.
Marilyn Rinchere, a Haitian immigrant who opened a food stall for the day, learned the secrets of Haitian spicing from her grandmother while growing up in Port au Prince. "My grandmother was everything to me," said Rinchere, who spent much of that afternoon dropping bits of meat into a kettle of hot grease, then standing back while they sizzled and popped. "She said if you are to grow up to be a woman, you must know how to cook."
Lesson learned.
Like most people who have lived in any of the islands that extend from Key West to Trinidad and Tobago, she grew up in a virtual spice cabinet. Throughout the West Indies, cinnamon, allspice, clove and nutmeg trees grow in forests also verdant with bay leaves and perfumed by white and yellow ginger blooms. Parsley and thyme grow riotously in just about every kitchen garden.
Cooks there are spoiled by their ability to pick a little of this and a little of that from plants just outside their back doors, tie their bounty into bouquets garni, then stew up a Creole sauce from what, to an untrained eye, seems to be ordinary twigs and leaves.
Myreille Dorsainville, who grew up a mile or so from the presidential palace in Port au Prince, cooks a little like this, too. She spent the day before the gathering in her Baldwin kitchen making pans of lambi, or conch, to take to the picnic. Dorsainville served her lambi with beans and rice and fried green plantains.
Rinchere, 36, who works at a Syosset nursing home, left Haiti years ago and lives in East Elmhurst with her husband and five children. But the recipes she brought from Haiti remind her of the voodoo-infused culture she grew up in.
"The maids had their way of forcing us to eat, but my grandmother would tell stories," she said. "She talked about the spirits. I guess these were things that she made up to get us to eat."
Rinchere can't take a walk through New York's forests to get the foodstuffs she could when she was a girl. But with the large influx of Caribbean immigrants in the past two decades, a number of supermarkets and specialty stores have begun selling fiery Scotch bonnet peppers and other ingredients that please Island palates.
Shops along Utica Avenue in Brooklyn carry what Haitians refer to as "fowl chicken." These are older, tougher- fleshed birds that make up in flavor what they lack in tenderness. Her grandmother used to simmer the meat over a charcoal fire, in a brew redolent of thyme, garlic, parsley, onions and tomatoes, and spiked with a hot pepper pod.
"Fowl chicken can stand the cooking time," Rinchere said. "Regular chicken is too soft and didn't have the taste."
Her grandmother, who is 93, still lives in Haiti. But Rinchere brought a bit of her spirit to that festive day in Forest Park. "Her food was a part of her personality," Rinchere said. "When she cooked, there was love in it."
Adapted from Marilyn Rinchere's recipes.
Griots
3 pounds pork shoulder, with skin, cut into 3-inch cubes
Juice of 1 lime
1 cup chopped shallots or green onions
5 cloves garlic, minced
1 Scotch bonnet pepper, minced
1 cup sour orange juice (or mixture of 1/3 cup lemon juice and 2/3 cup orange juice)
5 sprigs fresh thyme
1/2 cup corn or vegetable oil, plus more for frying
Salt and freshly ground black pepper to taste
1. Rub pork cubes with lime juice and let sit 3 minutes, then rinse.
2. In large pot, combine shallots, garlic, minced pepper, sour orange juice, thyme, oil, and salt and pepper. Add pork and marinate in refrigerator overnight.
3. To cook, add enough water to pot to just cover meat. Bring to a simmer and cook 90 minutes.
4. Drain pork and pat dry. Heat 1/2 inch oil in heavy skillet. Fry pork until crisp and browned, about about 3 minutes each side. Makes 6 servings.
Look for birds labeled variously as roasters, stewing hens, fowl chickens or even "heavy fowl" for this dish.
Stewed Fowl
1 large stewing chicken, 5 to 6 pounds, cut up
Juice of 1 lemon or lime
1 cup sour orange juice (or mixture of 1/3 cup lemon juice with 2/3 cup orange juice)
1/2 cup vegetable oil, divided
6 cloves garlic, crushed
1 small onion, diced
1/2 cup chopped parsley
6 sprigs fresh thyme
1 cup flour
3 to 4 tablespoons tomato paste
1 Scotch bonnet pepper
Salt and freshly ground pepper
1. Rub chicken with lemon or lime juice. Rinse with hot water.
2. In large bowl, combine sour orange juice, 1/4 cup of the oil, garlic, onion, parsley and thyme. Add chicken, and marinate, refrigerated, overnight.
3. To cook, wipe marinade from chicken, reserving marinade. Dredge chicken lightly in flour.
4. Heat remaining oil in large pot. Brown chicken. Remove. Add tomato paste to pot, and cook, stirring, until it darkens, about 2 minutes. Return chicken to pot, add reserved marinade and enough water to just cover meat. Add hot pepper, and salt and ground pepper to taste. Simmer for 2 hours. Serve with boiled plantains. Makes 4 to 6 servings.
Copyright © 2003, Newsday, Inc. Reprinted from Newsday of August 20, 2003.
Wehaitians.com, the scholarly journal of democracy and human rights