Want to send this page or a link to a friend? Click on mail at the top of this window.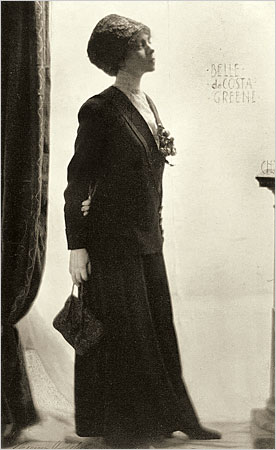 The Morgan Library & Museum
Photograph by Clarence White of Belle da Costa Greene, J. Pierpont Morgan's librarian and the first director of the Morgan Library, 1911.
AN ILLUMINATED LIFE:
BELLE da COSTA GREENE
JOURNEY FROM PREJUDICE
TO PRIVILEGE
By Heidi Ardizzone.
Illustrated. 580pp. W.W.
Norton & Company. $35
IN "Ragtime," E. L. Doctorow's novel of Jazz Age New York, a group of vigilantes occupies the Morgan Library, fills it with explosives and threatens to blow it sky-high in protest against the racial injustices to which its leader, the African-American pianist Coalhouse Walker, has been subjected. Walker's gang targets this particular landmark, Doctorow writes, because "more than any mayor or governor," J. Pierpont Morgan "represented in Coalhouse's mind the power of the white world." Yet unbeknownst to the fictional musician (and perhaps to his creator), the library, this symbol of white power, was in no small part the achievement of Belle da Costa Greene (1879-1950), a woman of color.
This oversight is understandable, though, for Greene — as Heidi Ardizzone shows in her biography, "An Illuminated Life: Belle da Costa Greene's Journey From Prejudice to Privilege" — kept her racial identity under wraps. She was the child of "two African-American parents of mixed ancestry," and her birth certificate identified her as "colored." But this label did not square with her ambitions. From a young age, she had a "fascination with illuminated manuscripts" and dreamed of becoming a librarian. In 1906, a series of fortuitous circumstances catapulted Greene into her dream job: helping the financier J. Pierpont Morgan to organize his legendary collection of rare books and manuscripts. Executing her duties with talent and zeal, Greene became "arguably the most powerful woman in the New York art and book world." Her professional stature in turn expanded her social horizons, granting her "access to the dinner tables and salons of the rich and famous" where African-Americans were rarely welcome.
Indeed, "Belle could not have achieved the social and professional prominence she did at the turn of the 20th century had she been completely open about her background." Her name itself was a canny disguise: da Costa added to connote "a fictitious Portuguese ancestry," and Greene a shortened version of her real surname, Greener. ("Greene," Ardizzone explains in one of the book's many tiresome formulations, "is very close to Greener.") This modification was designed to distance Belle from her father, Richard Greener, renowned as "the first black graduate of Harvard College" and "the first colored librarian and professor at the University of South Carolina." Although "Belle probably developed ... her fascination with rare books from her father," she may have feared that his high racial profile would marginalize her at a time when black and white communities were becoming even more segregated and distinct than they had been at the start of his own career. Conveniently, Greener left the country in 1898 to assume a consular post in Vladivostok, Russia. After this move, which also effectively ended her parents' marriage, Belle and her mother shortened their last name, "crossed the color line and began to live as white."
As Morgan's librarian, the putatively white Belle cultivated a reputation as "both society girl and serious scholar." With her exotic complexion, exuberant personality and flamboyant fashion sense, she defied just about every stereotype associated with her job. "Just because I am a librarian," she is said to have proclaimed, "doesn't mean I have to dress like one!" — and her high-octane appeal won her countless admirers in the (largely male) environment in which she worked. She was notoriously promiscuous, but hard work and talent also played their part.
The formidable Morgan admired her so greatly that he made her his "primary adviser on manuscript matters," and in 1911 she did him proud by defeating a slew of more experienced bidders in an auction for a rare edition of Thomas Malory's "Morte d'Arthur." In subsequent years, she added many more treasures to her boss's collection. According to Ardizzone, who teaches American studies at the University of Notre Dame, Greene wanted above all to make "the rare books she prized so highly available to the public, not locked in the vaults of private collectors" — and eventually she met this goal. In 1924, when Morgan's library became a public institution and Greene was named its first director, she celebrated by mounting a series of exhibitions, one of which drew "a record 170,000 people."
Twenty-five years later, the library honored Greene by staging a show featuring "over 250 of the best items Belle had purchased." Greene attended the exhibition in a wheelchair and died the following year, but her legacy, Ardizzone notes in the book's closing paragraph, lives on. Glamorously renovated in 2006, the Morgan Library & Museum is still flourishing in "both its mission to serve scholars and its role as a public institution," a testament to Greene's singular vision.
The first book-length biography of Greene, "An Illuminated Life" aims to revive this fascinating woman for posterity. Greene destroyed most of her papers before she died, and the author consulted thousands of sources for "clues to Belle's social life and experiences." But despite the thoroughness of Ardizzone's research, her repetitive prose often prevents her from telling Greene's story in an engaging way.
She asserts twice in the space of nine pages that art criticism was, in Greene's day, a developing field; twice in two pages that Isabella Stewart Gardner was a "socialite" and a "patron" (or "patroness") of the arts; twice on one page that Belle had "lost her mother"; twice in two pages that Morgan's Chinese porcelains were sold for $3 million; three times, at least, that, for Greene, the art critic Bernard Berenson was "the love of her life"; twice in eight pages that many mixed-race individuals were the offspring of black female slaves and their white male owners; three times in 23 pages that Russia, France and Britain were allies in World War I; and twice in three pages that Avignon is in France.
Ardizzone tells us on Page 35 that Richard Greener's mixed ancestry "made him even more aware of and outraged at the illogic of racism and prejudice," and on Page 39 that his "ability to operate as white ... made him particularly aware of the illogic and injustice of racism." "She was falling in love" is reworded one paragraph later as "Belle was in love." "Socializing was part and parcel of the art business world" is soon followed by "socializing was expected as part of her job." "In fact, over that year, Belle sat for several artists for portraits and sketches" reappears on the next page as: "In fact, Belle sat for more than half a dozen photographers and artists over the next two years."
Taken together, these redundancies provided some comic relief when I reached Ardizzone's criticism of Belle's letter-writing style: "She routinely repeated herself, forgetting that she had already described an event or person or conversation." As a biographer myself, I know a little something about overidentification with one's subject, but I wish Ardizzone had picked a more appealing quality to emulate.
Greene's "energy and personality," the author declares, "leap off the page" of her surviving letters, but Ardizzone's writing lacks these qualities. And the result is that reading about Greene's "seemingly endless whirl of work and fun" feels more like work than fun.
Caroline Weber, whose most recent book is "Queen of Fashion: What Marie Antoinette Wore to the Revolution," is a frequent contributor to the Book Review.
Copyright 2007 The New York Times Company. Reprinted from The New York Times, Book Review, of Sunday, July 22, 2007.
Wehaitians.com, the scholarly journal of democracy and human rights