Want to send this page or a link to a friend? Click on mail at the top of this window.
______________________________
Posted July 17, 2012
AN EDITORIAL
A happy ending for two sons of God, Bostonís Haitian-American community rejoiced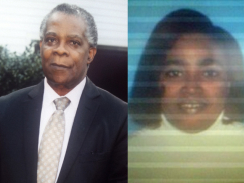 Reverend Michel Louis (L) and Lissa Alphonse.
The possibility of something good, something bad happens to us, regardless of where we happen to be, and even when we try to be as prudent as possible, is always there, will always be something of concern. That is because we do not control the many (external) factors or determinants of so.
The kidnapping of two Haitian-Americans, the Reverend Michel Louis of Boston of the Free Pentecostal Church of God and an Everett, Mass. church woman, Lissa Alphonse, in Egypt Friday and their safe release Monday in the revolution-in-progress northeastern African and the Sinai Peninsula nation of the same name Monday proves just that.
Words are far from being sufficient for us at Wehaitians.com, a Cambridge, Mass.-based democracy and human rights journal, to express our contentment that the two sons of God have now regained their liberty. We are looking forward to see them ultimately reunited with their families in Boston, and subsequent to so, continue to embark on the very long mission that also means so much to their congregant of persons of Haitian heritage, others, including citizens who are not even religious persons by background, that is preaching the proclamation of the redemption as preached by Jesus and the Apostles, which is the central content of Christian revelation.

The writer, Yves A. Isidor , is executive editor of Wehaitians.com.
Wehaitians.com, the scholarly journal of democracy