Want to send this page or a link to a friend? Click on mail at the top of this window.
The Haitian Tragedy, In Florida, On This Day Of October 29, 2002
According to a review of "Sweet Violence" - a book (328pp.) written by Terry Eagleton and published by Blackwell Publishing in 2002 - by Frank Kermode, Sunday, December, 29, 2002 New York Times Book Review, the nature of tragedy has been argued over and over at least from the time of Aristotle's words on the subject in his fragmentary "Poetics" (late fourth century B.C.).

Thinking about a tragedy today, you should consider that tragic state - the agonies of the 200 or so Haitian boat who jumped overboard, waded ashore and rushed onto a major highway, as reported below by The Associated Press.
Immigrants Rush Ashore in Miami
BY CORALIE CARLSON, Associated Press Writer
MIAMI, Oct. 29 (AP) - More than 200 illegal Haitian immigrants jumped overboard, waded ashore and rushed onto a major highway Tuesday after their 50-foot wooden freighter ran aground off Miami.
It was not immediately known if there were injuries. (Accompaigning photographs below)
The Coast Guard spotted the vessel about 2 p.m. and followed it for about two hours, said Coast Guard spokesman Luis Diaz. The boat ran aground and the immigrants began coming ashore near Hobie Beach on Virginia Key, just southeast of Miami's downtown.
"They were all over the front of the boat, the top of the boat, the back of the boat. They were all over it," said windsurfer Ovidio DeLeon, who witnessed the scene. "Then they started jumping."
Some of the Haitians jumped from the deck; others were lowered into the water. They ran into the streets, causing the six-lane Rickenbacker Causeway to be shut down.
Coast Guard personnel were seen pulling people from the water and throwing them life preservers; children were being transferred from the boat to people in the water.
Seven helicopters and five Coast Guard boats searched for people who may still be in the water. A Miami Fire Rescue spokesman dispatcher said emergency crews were treating several Haitians and giving them water.
Border Patrol agents were en route to begin interviewing the Haitians once it is determined they are not injured, said spokesman Carlos Roches.
"If they claim political asylum, we will process them accordingly," Roches said.
Unlike Cubans who reach dry land, Haitian immigrants usually are denied asylum in the United States and sent back to their homeland.
The Bush administration changed its detention policy on Haitian refugees in December to discourage a feared mass exodus from the Caribbean nation. Immigration attorneys sued the government in March, saying the new policy of detention was racially biased.
Human rights advocates said the policy treats Haitians differently than asylum seekers from other countries, who are generally freed until their asylum requests are granted or denied.
"The cards are definitely stacked against the Haitian immigrants," said Cheryl Little of the Florida Immigrant Advocacy Center. She said they will all likely be immediately taken to detention centers.
"If they can convince an asylum officer that they have a credible fear of persecution upon return to Haiti then ... they should be quickly released so they can find an attorney and have a fair opportunity to make their case for asylum," Little said.
Thousands of Haitians each year risk dangerous voyages aboard rickety, crowded boats in search of economic opportunities.
Some end up in the Turks and Caicos Islands, others in the Bahamas, and some make it to Florida. Many are sent back home.
Many are driven to risk their lives because of crushing poverty in their homeland, the hemisphere's poorest country where two-thirds of the population is unemployed or underemployed and most people survive on less than $1 a day.
Haiti's chronically depressed economy has further declined amid political crisis since disputed parliamentary elections in 2000. President Jean-Bertrand Aristide's party won 80 percent of seats, but the opposition alleges rigging. Millions of dollars in foreign aid money has been frozen because of the dispute.
In December, a ship with 187 Haitian migrants grounded off Elliot Key. Most of those migrants are still being detained by immigration officials in South Florida.
Copyright © 2002 The Associated Press.
Below are photographs of the Haitian tragedy in Florida, October 29, 2002. What Haitians are waiting for to consign to the archives of history radical leftist, brutal or totalitarian dictator, chief bandit, rapacious, narco-de facto president and the grossly incompetent, Jean-Bertrand Aristide, who is mainly responsible for their extreme conditions of poverty, ultimately causing them to flee hell Haiti, which the tyrant has long turned into a narco-state, for Florida, in search of political liberty, economic liberty?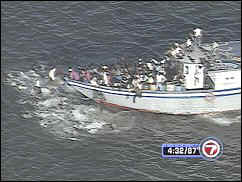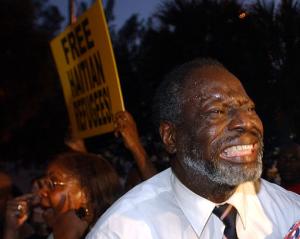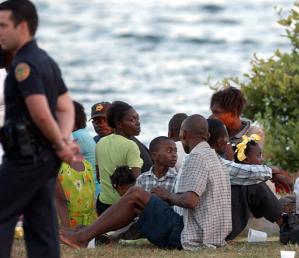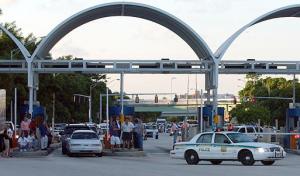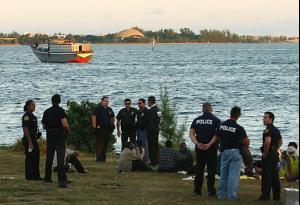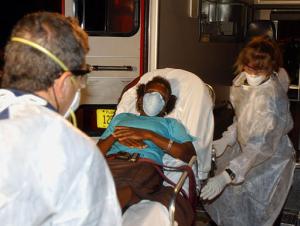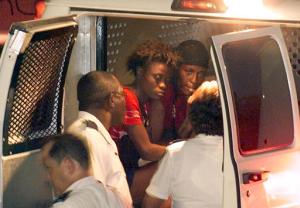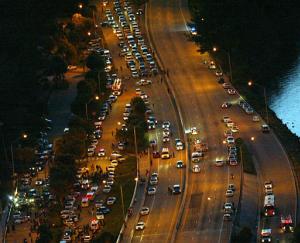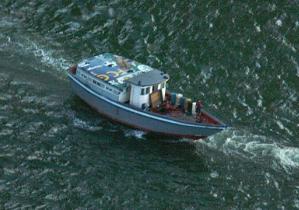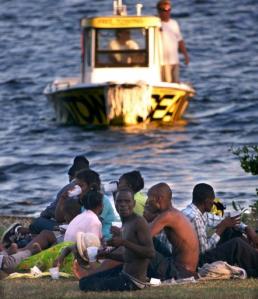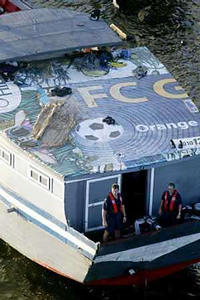 All photographs are of The Associated Press and Reuters.
Wehaitians.com, the scholarly journal of democracy and human rights