Want to send this page or a link to a friend? Click on mail at the top of this window.
First published in The Haitian Times, Haiti-Observateur and five other newspapers
May 17, 24, 2000, respectively
As Haiti's long-delayed vote approaches, the country is more likely to further symbolize failure and despair
Cambridge, Massachusetts - Ever since leftist Haitian President Rene Preval dissolved Parliament on January 12, 1999, and gave himself power to form a government by decree, he has come to resemble a play that comes out of a Graham Greene's novel, The Comedians.
| | | |
| --- | --- | --- |
| | | Rene Preval, the drunk and tyranthim. |
| I want to vote, but really for him, brutal dictator Jean-Bertrand Aristide. | | |
There are reasons for this. After more than 16 months of broken promises - parliamentary and municipal elections tomorrow evening, next month, this year, next year - only to be canceled three times just a few days before voters are to go to the polls, Preval has no credibility left for Haitians to be optimism about this coming Sunday, when an unpredictable number of Haiti's 4m-odd voter are said to cast ballots for 29,300 candidates.
What, then, are the issues of concern? If the vote does take place it will not be fair and free of pronounced fraud. It will simply be an affair between leftist candidates to be chosen by Jean-Bertrand Aristide, the predecessor and political mentor of Preval, so his Lavalas Family Party will have a majority in both houses of Parliament - the lower house and the upper house. And Aristide, who will again run for president in the December vote will most likely declare himself president-for-life, perhaps emperor, a few months after assuming the presidency, since the country will have a parliament that is synonymous with Fidel Castro's.
It is not hard to further understand why Haiti will continue to be a dictatorship of the proletariat with Aristide as its president, as he prolongs the promotion of violence by proxy for his own political gains.
In many recent cases, including the burning to the ground of opposition party headquarters, Espace de Concertation (Space for Change) and more then 15 well known opponents, who have been assassinated or burned alive, and this since March 3, the perpetrators have claimed to be from Aristide's Lavalas Family Party.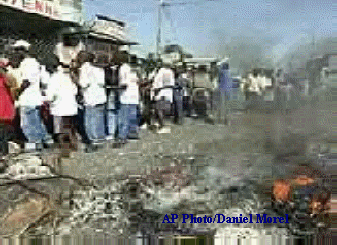 Tyrant Aristide's dirt-poor bandits in action.
Deeply concerned about escalating politically-motivated killings in Haiti, where poverty is in abundance and wealth not, many international human rights groups, including the National Coalition for Haiti Rights, the Washington Office on Latin America, and the Lawyers Committee for Human Rights Law Group, issued a joint statement suggesting that former president Aristide, who seems to epitomize everything that goes wrong in Haiti, urge his fellow Haitian compatriots to refrain themselves from violence.
The human rights group's April 25 statement read: "We are disturbed that Mr. Aristide personally has not used the considerable moral and political goodwill that he still enjoys in Haiti to condemn the violence."
So, too, in a letter, dated May 12, did United States Congressman, Benjamin Gilman, urge the former president, who is well known around the world for his advocacy of burning political opponents alive, to do the same. So far, no statement has been made.
The opposition parties have strong reasons not to campaign, all for fear of having more of their members assassinated by bandits in the pay of Aristide.
It is sure an indication that in the aftermath of the anticipated Sunday vote, unfortunately, the concept "peace" will not be inserted in the Haitian political lexicon, as Haiti will further succumb to state-sponsored thuggery and continue to have a government that resembles Castro's.
More seriously, foreign aid, in excess of $500 million, including the more than $30 million recently ordered by United States Senator, Jesse Helms, will remain suspended. Haiti, of course, will be unable to finance its minuscule national budget. This hard choice, will cause public goods and services as basic as trash removal not command the attention of authorities.
Worse yet, all of these factors will have a multiplying effects on the never-healthy economy where low income and no or slow growth are its hallmarks. The action of the multiplying effect can be illustrated by the sequence of events that follows the initial one: Unemployment rate rises in importance, which in turn causes personal income tax collection and others to decrease.
And then this means government experiences a bigger budget deficit than it is now as demand for public goods and services increases. And so the chain of events continues with their bigger effects, until they finally force tens of thousands of people to flee, too, tyrannical rule, on flimsy boats, with the shores of Miami as their final destination.
More than anything, Haitians need to protest the totalitarian Aristide-Preval's party dynasty. Only then can Haiti engage as a serious and respectable nation with the rest of the world as it achieves democracy and generates economic opportunities for its citizens.
Yves A. Isidor teaches economics at the University of Massachusetts-Dartmouth and is spokesperson for We Haitians United We Stand For Democracy, a Cambridge, MA-based nonpartisan political pressure group.
Wehaitians.com, the scholarly journal of democracy and human rights